When it comes to great food in Banda, Sai Darbar restaurant comes to mind as one of the best dining places in town. This place is not only about great food, it also comes to the top when talking about ambiance, quality of service, and hospitality.
We have visited Sai Darbar restaurant in banda so we can get the overall feel of it and provide you a complete review. keep reading to know about all aspects of the restaurant before having a dine here with friends and family.
Also read – 10 best restaurants in Banda, as picked by the city's top foodies
Sai Darbar banda's contact details are 7007167830, 8874978791.
Call Sai darbar for food home delivery, you can order online using Zommoto and swigy app
Things I loved about Sai Darbar Restaurant
Food – taste and look
Loved the food, it was delicious and looked good. We took multiple pics as the food looked too good. I loved the pizza here, the pizza I ate here is the best pizza I have ever eaten in Banda. I loved the coffee also, they had prepared it just the way I asked.
10 best restaurants in Banda, as picked by the city's top foodies
Deep Dhaba restaurant banda
Service
The thing I loved most is their fast service. They had given me my coffee within 2-3 minutes where I had to wait 10-15 minutes for the same coffee in the other restaurants.
They served our order very fast, we did not have to wait longer for our bulk order. From arriving to the place to the final check/bill payment, all went smoothly
10 best restaurants in Banda, as picked by the city's top foodies
Ambiance and atmosphere
Great ambiance in the evening and also throughout the day. Got some great soothing lighting all around the restaurant and light music playing in the background adds to its great atmosphere.
Delicious food at a great price- Sai darbar Menu
Here is the overlook of the menu for Sai Darbar Banda with the price range
Read these
The Green valley restaurant Banda – best Place for all occasions and celebrations
The Red Zone – Great family restaurant in Banda
Things I did not like and Sai Darbar should improve
hygiene – They need to have better hygiene in the restaurant. When I asked for a menu, they provide a menu card that was not clean and it sucks to go to a place like this and have to worry about hygiene. I had to ask them to clean the menu, even after asking they did not clean it properly
They did not have hand sanitizers in place, staff did not wear any kind of mask which is a must-have thing during this covid-19 pandemic.
One more thing I want to highlight here is the hospitality, they could work on it. That will surely increase the customer count for the place. It feels nice for the customer if someone welcomes them when they enter the restaurant with their friends and family, it gives the customers a sense of belonging and they tend to visit again and again
Read these
Sai Darbar restaurant as a place to have a great time with friends and family
When family and friends go out to eat in Banda, they do not go out just for food, they go out for the great experiences. So providing customers with good food along with great ambiance and atmosphere where they can relax and enjoy the evening with their loved ones.
Sai Darbar owner had put focus on providing a great experience, let it be good food, great service, and splendid environment inside the restaurant. They have got the place nicely decorated with colored lighting and delicate-looking props.
Birthday celebration and couple hangout place
This place is great for newlyweds and unmarried couples to have a romantic date. They provide you with privacy so you can have a good time without being bothered about who is looking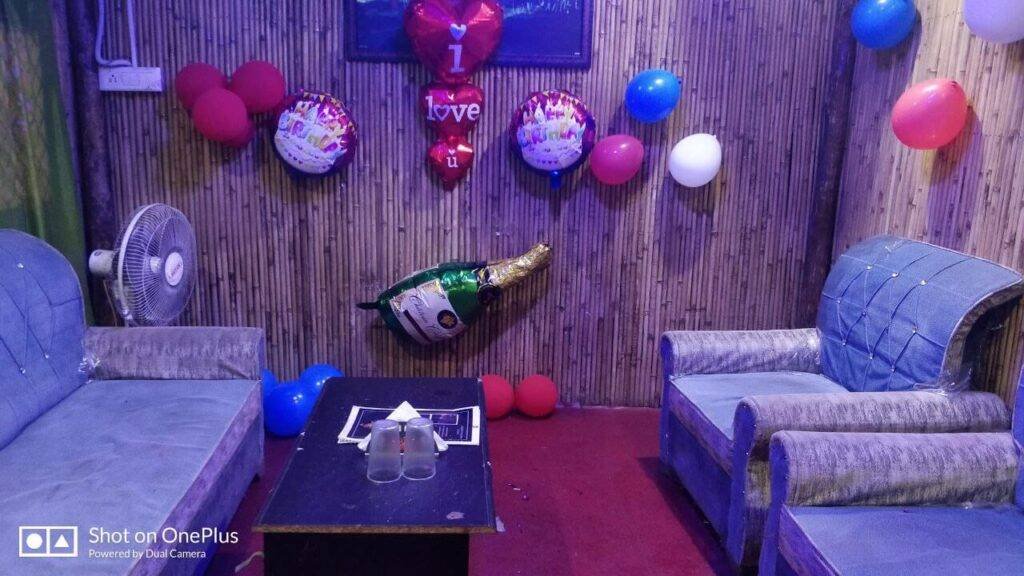 ---
Locate the Sai darba restaurant in google map and address
Sai darbar restaurant banda address: it is located at swaraj colony, civil lines banda. Just beside the district hospital, opposite to GIC ground, banda
Frequently asked questions and answers
Is Sai Darbar a pure vegetarian restaurant?

Yes , Sai Darbar restaurant is pure veg

Does Sai Darbar take online orders and give take-out?

Yes, you can order online and also get take-out. You can use zomoto and swigy app to order online food from here

Is Sai Darbar provide booking for wedding and reception and engagement functions

Yes, you can book this place for small events

Is this place is couple friendly

Yes, this place is perfectly suited for couples
Final words
I have loved this place and recommend everyone to visit and give a try to this marvelous place.
You can give your own feedback and rating and also share your story in review section below. your real time rating will reflect as over all rating for the place so please make your review count. Also share it with everyone
Want to compare Green valley with Sai darbar and see which one is better, use the below link
Please provide your review and experience