Do you want to take your wife/girlfriend on a romantic evening date but struggling to find a perfect restaurant in Banda? Then Green Sky Rooftop Lounge, a rooftop restaurant in Banda could be your perfect pick.
Let me paint a picture for you
Just think about an evening. You are sitting with your romantic partner under the sky. Surroundings are perfectly illuminated.
Cool winds are blowing her hair while Romantic slow music plays in the background. You are looking into her eyes, talking about life, desires, future. And then you are served delicious food prepared by a professional chef.
This could be your perfect date. Perfect evening.
Also read – 10 best restaurants in Banda, as picked by the city's top foodies
The Central Jail Restaurant Banda- review
D'vine momo cafe
Cheesecake- Love at first bite
It fills the void for people from Banda
It wasn't an option before. We only had normal, same boring restaurants. There was no romantic element. You go to the same places for normal lunch/dinner, for birthdays, for valentine's day, or just another day.
But it is not an issue anymore.
Cheesecake- Love at first bite
Then Green Sky Rooftop Lounge has provided that romantic element we were missing and It's my go-to place with my wife.
My experience of Green Sky Rooftop Lounge
I had spent my first valentine's day with my wife at the Green sky rooftop lounge. I was recently married and wanted to take my wife on a special dinner date. Fortunately, this place was opened just 2 weeks before valentine's day.
I saw so many people have come with their partners. It was a perfect evening for me. We had to suggest the staff play the music as per the occasion as they were playing loud music and songs were inappropriate. The staff was polite, they took my suggestions. They played some nice songs afterward.
The food was delicious, my wife loved it. We tried multiple cuisines, except one dish, we loved the food. Pricing was moderate. The total bill was just RS 600 for both of us, in spite of us ordering so many things. We took some nice pictures as well.
While leaving, we met one of the owners, Mr. Basant Gupta. He was very humble, he greeted us and asked for feedback. We conveyed our joy.
My review of Green Sky Rooftop Lounge in banda
Ambiance:
The ambiance at this is much better as compared to the rest of the restaurants in Banda. Great decoration and lighting. It's a great place for taking breathtaking selfies and photos. Girls love to take pictures and post on social media to make their friends jealous.
The only issue I could see is the staff is not good at picking music and songs. It felt like I have come to a wedding, not a romantic restaurant. Music was so loud that we could hardly hear one another while talking.
Staff and owners have to understand the importance of playing the right kind of music that suits the place. Music should set the mood of customers, not the other way around.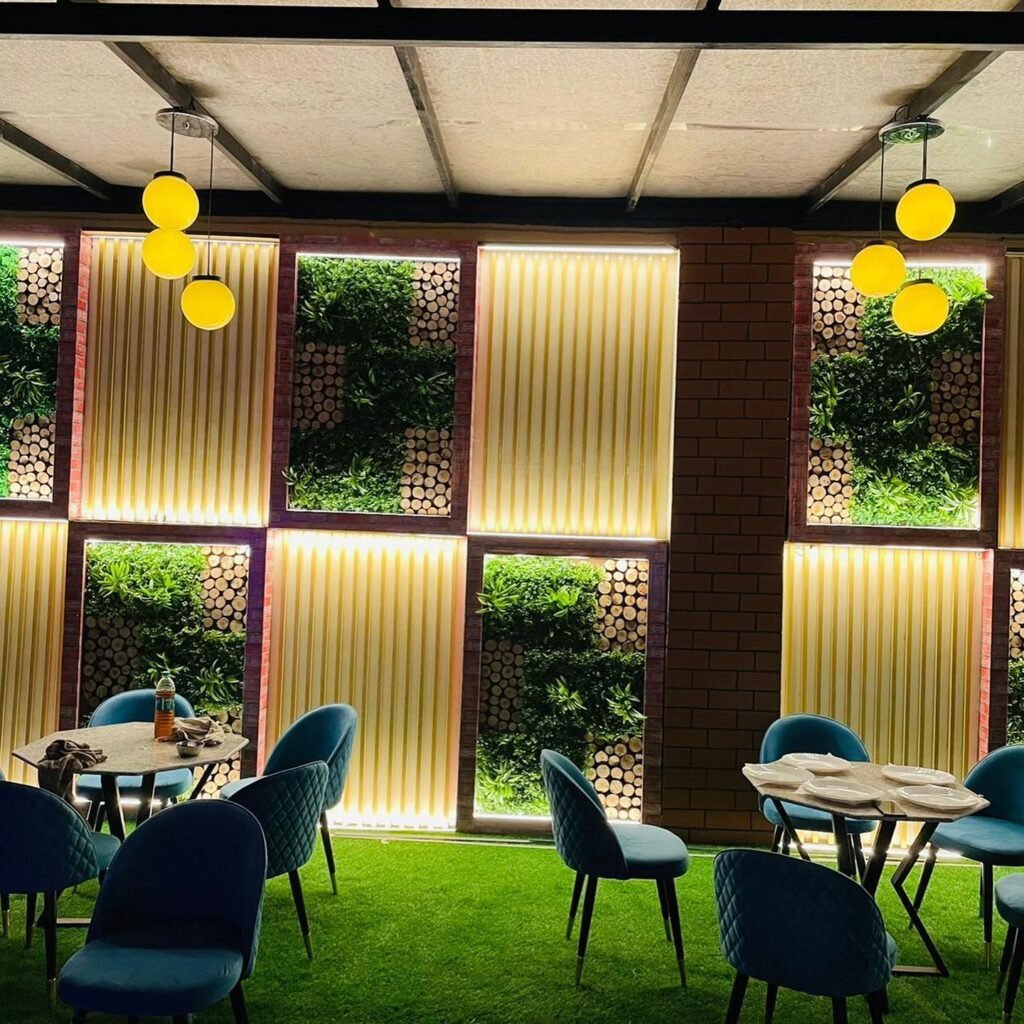 Food quality and prices
Food quality is decent. My favorite is white sauce pasta. You must try it out. I will also recommend butter paneer and tandoori. You will have a wide range of options in appetizers, meals, Chinese, and dessert you can explore here.
They also serve fruity fresh mocktails here. Go and try one out. At least you can take some pictures, holding glasses. Those pics look very cool on Instagram — As per the teenage girl sitting at the table next to me. (Not that I was eavesdropping )
Prices are moderate and you will have your money well spent here as food quality compliments the prices well.
You can read our review on other restaurants in banda
The Central Jail Restaurant Banda- review
Review of Red Zone restaurant in Banda
Review of Sai Darbar Restaurant Banda
Review of Green valley Restaurant Banda
Legacy of Deep Dhaba Banda
Location of the Green Sky Rooftop Lounge Banda
It is located in Bijli Kheda banda, Just near Pt J.N college. It is in the same building as the Central Jail Restaurant (First floor) on the second floor.