Rahila Sagar Sun Temple in Mahoba (Bundelkhand) which was built more than 1000 years ago by Chandela's, is an example of a prestigious Indian cultural heritage that is going in vain due to ignorance from the government.
The Majestic Rahila Sagar Sun Temple (Locally known as Rahiliya temple) has located 3 km from Mahoba in a southwest direction near Mirtala and Rahiliya village. In this temple, Chandela kings used to worship the sun. In those days the sun was considered as a source of energy, health, and positivity in life and Kings use to worship the sun so they will stay in power for long time
10 beautiful places to see in Mahoba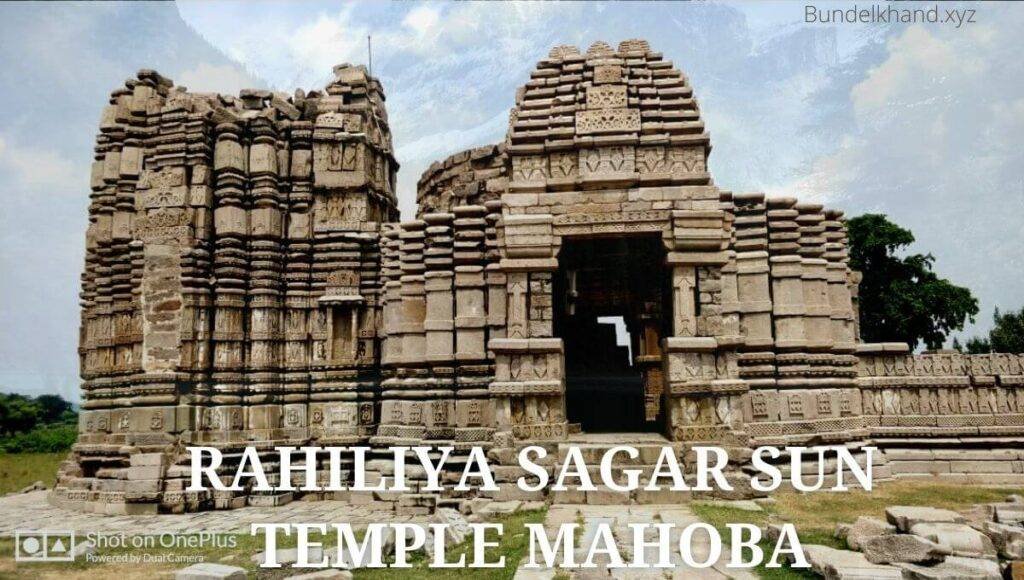 History of Rahila Sagar Sun Temple Mahoba
Rahiliya Sagar Sun Temple was built by 5th Chandela Ruler Rahila dev Varman during his ruling period (890 A.D. – 915 A.D.), which is situated in Rahiliya village ( 3 km from Mahoba in south-west direction) which was named after the king Rahila dev. He built a water tank named Rahiliya Sagar and one temple on its bank as well.
The Chandela's, who also regarded to be Chandravanshi, ruled over much of the Bundelkhand region of central India from the 9th to 13th century. They had their capital city in Khajuraho, which they later shifted to Mahotsava Nagar ( Mahoba). They became popular for their artistically sculptured temples, made during their rule in Central India. Examples of that can be seen in temples of Khajurao, Kalinjar, and Mahoba.
Bundelkhand was attacked and many temples were destroyed along with Rahila Sagar Sun Temple Mahoba by Qutubuddin Aibak
Qutubuddin Aibak attacked Bundelkhand in 1202-03 AD to establish his supremacy in central India and captured Kalinjar fort which was earlier regarded as impregnable. Aibak was successful in ousting the Chandellas and occupying the region.
He also occupied Mahoba and Khajuraho and destroyed multiple temples in Khajuraho, Kalinjar, and Rahiliya Sagar Sun Temple Mahoba
10 beautiful places to see in Mahoba
The cultural impact of Ancient Hindu society on Rahila Sagar Sun Temple Mahoba and Khajuraho temples
These temples are good examples of Ancient Hindu society that had an open thought process and far more advanced than our current society. Evidence suggests that Khajurao temple construction work had gone through the whole 500 years of Chandela's rule. It was said that Chandela rulers had made it a tradition and social duty of the King to construct more than 10 temples in his rule period. around 120 temples were present at the time which is now reduced to 20 temples and less than these are shown to tourists.
The architecture of Rahila Sagar Sun Temple Mahoba
The Temple is made using fine Granite Stones in the great example of the Pratihara style of Architecture, which is widely seen in Khajuraho. Temple is built with keeping Vastu shastra in mind, it is open from the east, north, and south and is closed from the west side.
According to the ASI document in the Temple, it is erected on a high platform and has a high adhisthana with great Ornamental Mouldings. Temple's Garbh Grah (Inner room) is adorned with the image of Surya (Sun) and the Shikhar over the Sanctum is tall and Curvilinear in design.
Here is the glimpse of the architecture of Rahila Sagar Sun Temple Mahoba
My Journey to Rahila Sagar Sun Temple Mahoba and complete experience of it
I had visited Rahila Sagar Sun Temple Mahoba recently and have seen its beautiful architecture, the well-planned structure and design, traces of Indian Shilpa Kala all around the temple's wall, and every single detail about this place and also the ruins of this place and how we (People, government, and leaders) have ignored it for these many years. We all talk so much about preserving our heritage and culture while ignoring marvelous structures like these at the same time, how hypocritical of us!!
Similarity Of Rahila Sun temple with Konark Sun Temple
When I got the first Glimpse of the marvelous Rahila Sagar sun temple (Also know as Rahiliya temple) in Mahoba, it instantly reminded me of Konark Sun Temple in Odisha. Architectural similarity can be evident to anyone, both temples are made of Granite stone, have similar sculptures on the wall and both places are associated with worshiping the Sun who is believed to be an ultimate source of energy and positivity in life and associated with good health and long life
Rahila Sagar sun temple was built in the 9th century by Chandela Dynasty Konark Sun Temple in Odisha was built in the 13th century by Narasimhadeva I of the Eastern Ganga Dynasty
How to Reach Rahila Sagar Sun Temple Mahoba
Nearest Airport and railway station
The nearest Airports to Rahila Sagar Sun Temple Mahoba are Khajuraho, New Delhi, and Lucknow. The distance of the temple from Lucknow airport is 225 Km, from New Delhi airport is 580 km and Khajuraho airport is 70 km
The nearest Railway station Rahila Sagar Sun Temple is Mahoba and Jhansi and Khajuraho. distance from Mahoba railway station is 3 km, from Khajuraho railway station is 65 km, and from Jhansi is 160 km. From Khajuraho, you can come to Mahoba via train then take an auto for this place. If you are coming from Banda, Chitrakoot, you can take a train/bus to Mahoba.
Rahila Sagar Sun Temple's location on google map and suggestions from personal experience
While going to Rahila sagar sun temple in Mohoba, always take a way via police line and collector office Mahoba. Do not rely on google map fastest path as it might suggest you the way through a village and muddy road. We got into trouble as it took us via one village and our car broke down in the muddy road. Take the road which goes through police line as shown in the image with blue line.
Click on map to see directions
Places within Rahila Sagar Sun Temple-Rahil Sagar lake, sun kund, temple, and a beautiful park
This beautiful Sun kund is inside of the Rahila Sagar Sun Temple near the temple, it's said that water never dries up in this kund, During the rule of Chandela's, the king used to take bath in this kund before visiting the temple to worship the sun.
There are a park and a temple on one side of a temple and Rahil Sagar lake on the other side.
Spoils of Rahila Sagar Sun Temple Mahoba and effort to save this heritage from going in vein
When I visited here, I saw its condition which was not so good as it should have been, spoils of the place were all around the temples. When I asked the locals if any work to improve its conditions had been done, they told me that some work was going on for few days but nothing much was done, it was just for formalities.
Conclusion
This marvelous sun temple is another example of the great Indian cultural heritage which was built by our ancestors. It makes me wonder about the creativity which our Ancient Indians possessed and I feel proud to be part of the greatest culture in the world. This place is one of many hidden gems in Bundelkhand which have not got the limelight and attention it deserved. Even most of the people in Bundelkhand do not know about the beauty of this place and also the government has been ignoring this place.
According to one article by Times of India, Konark sun temple see 20-22 lack footfall per year while the whole Mahoba barely sees the footfall 10-12 lack of local tourist and Rahila Sagar sun temple gets only 25 % of it.
Even though the Indian Governments have declared it a national monument and made the Archaeological Survey of India, a custodian for this temple, Nothing much was done to improve its condition. They had allocated some funds for this place but it was not used properly to improve its condition
Appeal from the readers
We all need to spread awareness about this place and appeal to our local leaders, government to make some serious effort in the direction of saving this historical and cultural heritage of Bundelkhand from going in vain. If this place gets proper care, it has the potential to become tourist attraction from all over the world and can be a great source of employment for the locals who are having a hard time making their living.
If you like this article, please share it with everyone so they can read about it and get aware of the prestigious Heritage of Bundelkhand.
Place to see near Rahila Sagar sun temple Mahoba
Arjun Sagar Reservoir, this beautiful waterbody is 31 km from Rahila Sagar. This is a beautiful place near Charkhari (10 km from Charkhari) and you must visit. It will mesmerize you with its beauty.
Charkhari and its historical buildings and Talab
Kakramath, which is a popular granite Shiva temple.
Madan sagar lake in Mahoba
Chandika Devi Temples in Mahoba
Vijay Sagar Pakshii Vihar
Chandrika Devi Mandir
References
http://www.indianrajputs.com/history/chandel.php
https://www.insightsonindia.com/2020/07/31/pratihara-style-of-architecture/
https://www.khajuraho-india.org/chandela-dynasty.html
Rahiliya Sagar Sun temple Mahoba distance from banda is 60 km and the distance from Chitrakoot is 130 km
Best Places to visit in Mahoba, Bundelkhand
Bundelkhand heritage