Best places to visit in Bundelkhand– Bundelkhand is the land of many historical and natural places that are great tourist destinations in Bundelkhand. It got many beautiful waterfalls, marvelous Forts, and spiritual places where you can enjoy a beautiful time with loved ones.
If you are looking for a vacation with your family&friends in the Bundelkhand region, then look no further as I have handpicked some great suggestions for mind-blowing tourist destinations in Bundelkhand.
Read in Hindi बुंदेलखंड के पर्यटक स्थल- बुंदेलखंड में सबसे अच्छी घूमने की मन मोह लेने वाले 10 जगहें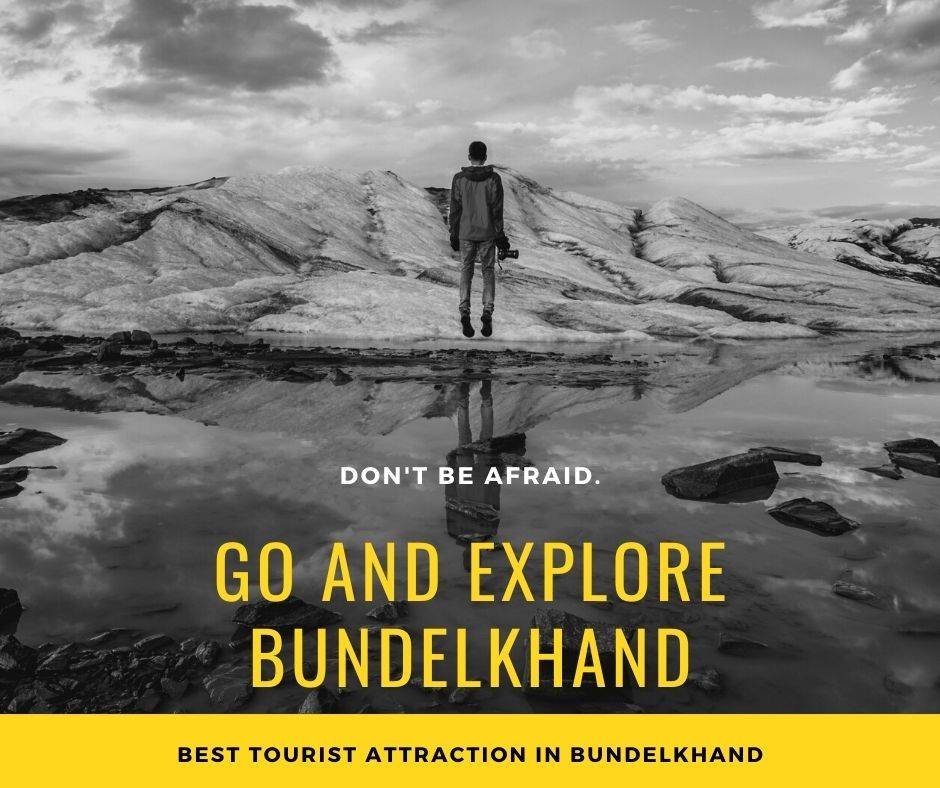 Best places to visit in bundelkhand -bundelkhand tourist places
I have made a list of the 10 most popular tourist attractions in Bundelkhand, a mix of historic, natural, and spiritual places that will blow your mind. Spending time in these places will heal your soul, take away all the sorrow from your life and fill you with positive energy. Pack the bags and get going.
10 most beautiful tourist attractions in Bundelkhand
400 feet high Brihaspati kund waterfall also Known as Niagara Falls of India is situated in  Pahari Khera village in Panna district (Madhya Pradesh). Brihaspati kund which is nearby to kalinjar is the most beautiful place in all Bundelkhand areas. It is 37 km in distance from Panna, 85 km from Banda, and 29 km away from the kalinjar fort.
You will enjoy every moment of your trip to Brihaspati kund Panna, let it be the road trip in the valley, trekking via mountains, taking bath in the cold water under the waterfall, having a picnic there, or just sitting there while watching the water falling from great height making huge roar, it all give so much peace of mind. you can go to this place with family, friends, and loved one's. Read More about Brihaspati kund
Shabri waterfall near Chitrakoot Dham, u.p is one of the most beautiful tourist destination in Bundelkhand. Shabri waterfall landscape is filled with water running over rocks, falling down from height with the loud noise of water hitting rocks, its view will hypnotize you with its indescribable beauty. Bathing under the waterfall is the best experience You can go with family and friends.
The rainy season is best to visit Shabri waterfall as water flow will be more during the Monsoon season. July to September are the best months although you can visit till December. You will love taking bath under the waterfall.
If you love outdoor picnics, then this beautiful place near Chitrakoot Dham is best for you. you can either bring home-cooked food and cook the food in here.
Read more about Shabri waterfall near Chitrakoot Dham
Read in Hindi बुंदेलखंड के पर्यटक स्थल- बुंदेलखंड में सबसे अच्छी घूमने की मन मोह लेने वाले 10 जगहें
Shri Paramhans Maharaj Dharkundi Ashram is a beautiful spiritual place near Manikpur and Satna. Dharkundi Ashram is where nature meets spirituality, has surrounded by the Ranipur forest range (Also know as Ranipur Wildlife Sanctuary).
It is the place where people from all over the world arrive for a few days to escape from their busy lives to experience spirituality and peace via meditation under nature. You will love the experience of spending a day in nature, away from the city's noise.
Arth Marshan Kund in Dharkundi is very famous for its mythological background and everyone must take a bath in this Kund which is said to be very pure and people say that it will wash all your sins if you take a bath at this place .
Rahila Sagar Sun Temple in Mahoba (Bundelkhand) which was built more than 1000 years ago by Chandela's, is an example of a prestigious Indian cultural heritage. Rahiliya Sagar Sun Temple was built by 5th Chandela Ruler Rahila dev Varman during his ruling period (890 A.D. – 915 A.D.), which is situated in Rahiliya village ( 3 km from Mahoba in south-west direction) which was named after the king Rahila dev. He built a water tank named Rahiliya Sagar and one temple on its bank as well.
A visually stunning masterpiece, Rahila Sagar Sun Temple mahoba (Locally known as Rahiliya temple) is located on the side of Rahil Sagar lake on the outskirt of Mahoba (Bundelkhand), Mahoba used to be known as Mahotsav Nagar during the rule of the Chandela kingdom
Read more about sun temple in Mahoba
5. Kalinjar Fort
Kalinjar fort has an undeniable place in Indian History. Many decisive battles were fought for the possession of this strategically located fort in ancient, medieval, and modern times, but the military aspect alone does not exhaust the importance of Kalinjar. The place is also a symbol of cultural and religious glory.
A fascinating historical fort housed at Kalinjar, Kalinjar Fort is one of the 8 most popular forts built by the Chandela rulers. Perched 244 m atop a secluded hill in the Vindhya Ranges, the fort was majorly controlled by the Chandela kings, though many others fought valiantly for it. A real treat for history and religion enthusiasts, Kalinjar Fort is one of the most popular places to visit in Bundelkhand.
Read in detail about Kalinjar Fort – Kalinjar fort – A must visit place for all history and art lovers
This Famous fort in Bundelkhand was built by Chandela who ruled Bundelkhand from 800-900 AD. This is a great example of great Architecture which is similar to temples in Khajuraho and Rahila Sagar Sun Temple Mahoba. There are a lot of temples inside the fort which are worth your visit
In the unique temple of Neelkanth Mahadev, according to mythology, Lord Shiva drank the poison which came out of the sea.
Budha-Buddi Tal
Sita SEZ, Patal Ganga and Pandava Kund
Sher Shah Suri's Tomb and Humayun's cantonment
Read about bundelkhand tourist places in Hindi
6. Panna valley
The beautiful Panna valley has always been a tourist destination for people all around the world. Panna has also known as the jewel of god on earth and it is full of natural beauty. starting from the magnificent waterfall, marvelous jungles and diamond mines are one to look for.
Panna is popular for its abundance of diamonds (the world's most expensive gem). This place is full of natural beauty and beautiful places that you can explore after visiting Brihaspati kund. Below are the most popular places in Panna. You can enjoy the beautiful valley full of natural ambiance. There are tons of things you can do in Panna.
Take a tour of Diamond mines in Panna and see the process of diamond exploration and talk to the experts who will answer all the questions you might about diamond and its exploration
Pandava Falls and caves, the place where the Pandavas sought haven during their exile (According to Mythology )
Panna National Park, which is located at the bank of river Ken in Panna. This is famous for tigers
Raneh Falls and Crocodile sanctuary
Read in details about places to visit in Panna valley
Complete guide to heavenly Panna national park Tiger reserve in 2021
10 Mindblowing tourist destination near Panna valley
Khajuraho is one of the most popular tourist spots in Madhya Pradesh. It is famous for its ancient temples that depict some of the finest art in the world. Beautiful, intricate, and expressive, the sculptures of the Khajuraho temples will leave you in awe and wonder.
Built between 950-1050 AD by the Chandela Dynasty, these temples depict various forms like meditation, spiritual teachings, kinship, wrestling, royalty, and most significantly, erotic art. The temples consist of stunning displays of fine sculptures and exceptional architectural skills, making them one of the UNESCO World Heritage Sites in India. Based on their geographical location, the temples are categorized into three groups: Eastern, Western and Southern.
There are many beautiful temples in Khajuraho along with some great museums, and water bodies. You will see many ancient erotic sculptures depicting different acts of sex between man and women and it had given Khajuraho the fame of being the Kamasutra city of India.
Kandariya Mahadeva Temple
Lakshmana Temple and Matangeshwar Temple
Adinath Temple and Javari Temple
Archaeological Museum Khajuraho
Jain Museum
Beni saga dam
Javari Temple
Read about the best places to see in Khajuraho with the below link
15 most beautiful places to visit in Khajuraho
खजुराहो में करने के लिए 15 सबसे अच्छी चीजें
8. Orchha
Orchha is one of the best tourist destinations in the Bundelkhand region. It is known for its great temples, fort, and water sports in the Betwa river
Orchha is a very beautiful place near Jhansi with a rich history and astonishing natural beauty. This place is a perfect tourist destination to go to with friends and family. this majestic city is one of the hidden treasures of the country. Orchha was founded in the 16th century by bundle Rajput chief, Rudra Pratap. There are so many things that you can enjoy.
Also Read ओरछा के 12 अविस्मरणीय पर्यटन स्थल
Jungle Safari at Orchha Wildlife Sanctuary
Go for River Rafting in Betwa River
Witness the Captivating Architecture of Orchha Fort
Peek into the History by Visiting the Chatteris on the Betwa River
Pay a Holy Visit to the Laxminarayan Temple
Stroll Around the Beautiful Phool Bagh
Witness the Architecture of Chaturbhuj Temple
Learn the Exciting History of Ram Raja Temple
Attend Light and Sound Show at Orchha Fort
Nature Trail in Orchha Nature Reserve
Go for boating and Kayaking in the Betwa River
Enjoy a Royal Stay at Sheesh Mahal
The spiritual city of Chitrakoot Dham is the best place to go with family and friends to get peace of mind. Chitrakoot is a famous pilgrimage center and tourist destination in Bundelkhand.
It attracts pilgrims throughout the year on occasions such as Amavasya, Somwati Amavasya, Deepawali, Sharad-Poornima, Makar Sankranti, Rama Navami, and for Free Eye Care Medical Camps while having a vacation. Noted 'Ayurvedic' and 'Yoga' centers like 'Arogyadham' are located in Chitrakoot. It has become a tourist attraction for the tourist from all over the world.
It is a place of religious, cultural, historical, and archaeological importance, situated in the Bundelkhand region. It is known for a number of temples and sites mentioned in Hindu scriptures. Chitrakoot also is the Tapobhumi of Great saint Goswami Tulsidas. God Ram spend time here during his 14 years of exile and also met His younger brother Bharat. That place is named Bharat Milap. Here are some beautiful places to see in Chitrakoot.
Famous places in Chitrakoot that are tourist attraction
Ram Ghat and Arogyadham
Gupt Godavari Caves
Kamadgiri Temple
Sati Anusuya Temple and ashrama
Hanuman Dhara Temple
Sphatik Shila
Kamtaji Temple
Hanuman Dhara
Janaki Kund
Bharat Milap
10. Ganesh Baag
Ganesh Bagh near Chitrakoot located at the distance of 11 km on the Karvi-Devangana Road, Uttar Pradesh, is one of the most popular tourist attractions near Chitrakoot.
It is a landmark of both scenic and historical value. The temple, castle, and ancient stepwell are the main attractions of this location.
Peshwa Vinayak Rao, a Maratha prince, built the palace that stands here in the 19th century. The Archaeological Survey of India looks after it, and its attractive proportions attract visitors. This structure is thought to have functioned as the royal family's summer retreat at one time. Even though most of it is now in ruins, it gives you an idea of its grandeur at one time.
The temple devoted to Lord Shiva is another attraction here. The temple immediately reminds you of the Khajuraho Temples in Madhya Pradesh, with its finely carved domes and sensual sculptures on niches and pillars. As a result, it's been dubbed "mini-Khajuraho." The arched doorways and pillars contribute significantly to the temple's overall beauty. A gigantic stepwell (known as baoli in the native tongue) is also part of the temple complex, which is a source of attraction in and of itself.
Kutni dam island resort in Khajuraho also known as Kutni Island resort near Khajuraho is a sensational experience you must enjoy with your partner. This place is an ideal romantic destination for newlyweds because of the ambiance it provides. A long walk around this artificial island in the late evening followed by a night at the cottage where the balcony is facing the water can be very rejuvenating for a newly married couple.
This beautiful place near Chitrakoot is not just for newlyweds/ romantic couples, it is also a perfect destination for families and friends. You can visit here with your group of friends for a blast. You can come here with your kids and enjoy the boating experience around this island.
You can enjoy boating, sightseeing, enjoy the beautiful sunset by the river, spend a night at a beautiful cottage. You will love a walk around this place at the night. This place is just 150 km from Chitrakoot and 17 km from Khajuraho. You can get a direct train from Chitrakoot
Read in detail about Kutni Island resort and dam
Read about 20 most beautiful places to visit in Khajuraho
12. Panna national park – Tiger reserve
The wildlife sanctuary of Panna, Panna national park is India's 22nd Tiger Reserve. Situated between Panna and Chatarpur Districts of M.P, this beautiful national park is very close to the Indian heritage site Khajuraho. A jungle safari in this Panna sanctuary is a wonderful experience where you travel in an open Jeep through the dense forest and beautiful canyons while witnessing wild animals getting through their normal day, doing their own things.
Panna national park is primarily famous for its tiger but it has also got around 8 varieties of exotic creatures such as leopard. The national park is not only a wildlife enthusiast's dream, but it also possesses natural beauty. Beautiful gorges and captivating waterfalls
are a visual feast. Boating on the Ken River adds to the enjoyment of your trip.
13. Raneh Falls Panna
Raneh Falls is another interesting tourist destination that you must see in Panna. it will soothe your heart. This waterfall, which is about 30 minutes from the temple town of Khajuraho, is best visited during the monsoon season to see a complete flash of flowing water. Raneh waterfall is a beautiful sight that is located only 21 km away from the Khajuraho bus stand towards Panna.
The magnificence of this location, however, is not limited to the waterfall; it also includes the rock formations. The granite landscape looks to be made up of a succession of crystal towers as if the rocks have been carefully carved from the top. The landscape, emerald rivers, and sandy granite rock walls are all so stunning that you won't blink. A day trip to Raneh Falls will certainly attract nature lovers.
14. Pandava Falls and Pandava Caves
These caves were built by the Pandavas during their exile, which was later rebuilt by the kings of Panna as they are today. At a distance of 14 km from Panna and 34 km from Khajuraho, Pandava Falls is a serene waterfall located inside Panna National Park in the Panna district of Madhya Pradesh. Situated on the Khajuraho – Panna highway, Pandava Falls is one of the scenic waterfalls in Panna and one of the top Khajuraho sightseeing placesPandav Falls is year-round waterfall shed by a tributary of the Ken River in Madhya Pradesh.
This waterfall falls from a height of about 30 meters into a heart-shaped pool. It is surrounded by lush green forests and is at its peak during the monsoon season. The serenity, purity, and mystical atmosphere of Pandav Falls attract locals, national and international tourists. Although you can visit this place any time of the year winters and monsoon is the best time because it is a bit difficult to come here in the summers. There are about 300 steps to go down, so you should plan this trip if you are physically fit for that
The distance of Pandav falls from Banda is 120 km
15. Ken Gharial Sanctuary
This nature reserve in Panna is another tourist hotspot that offers scenic sights of critically endangered animal species. This nature destination is adjoining the Panna National Park. the sanctuary is ideal for nature lovers and trekking enthusiasts all around. It falls into the route of the beautiful Ken river, which flows northwards to meet the Holy Ganga river.
16. Ajaygarh Fort
The Ajaygarh Fort at Ajaygarh, Madhya Pradesh, is an important architectural monument of the Chandela dynasty. It is located in the Panna region of Madhya Pradesh. It takes about four hours to drive from Khajuraho to the fort, which is 65 kilometers away. Ajaygarh fort is a must-see for history buffs who want to learn more about medieval India. This place should be in your must-visit place near Khajuraho.
The fort is not only situated in the stunning Vindhya range, but it also has an interesting history. The fort served as the Chandela dynasty's capital for the last few years of their reign, and it is located near the Chandela shrine. Remember that to get into the fort, you'll have to climb 500 steep stairs. Also, bring the food when you visit here as you will not find any place to eat nearby as this fort is isolated and you won't find any place to buy food.
Read in Hindi बुंदेलखंड के पर्यटक स्थल- बुंदेलखंड में सबसे अच्छी घूमने की मन मोह लेने वाले 10 जगहें
17. Sagar
In Sagar, you may have a list of things to do and the places you want to spend the best moments of your journey. Locations such as Lakha Banjara Lake and Dr Hari Singh Gour University will ensure that your dream destinations get ticked off. The city offers you the best areas to visit at the same time, and new foods to try.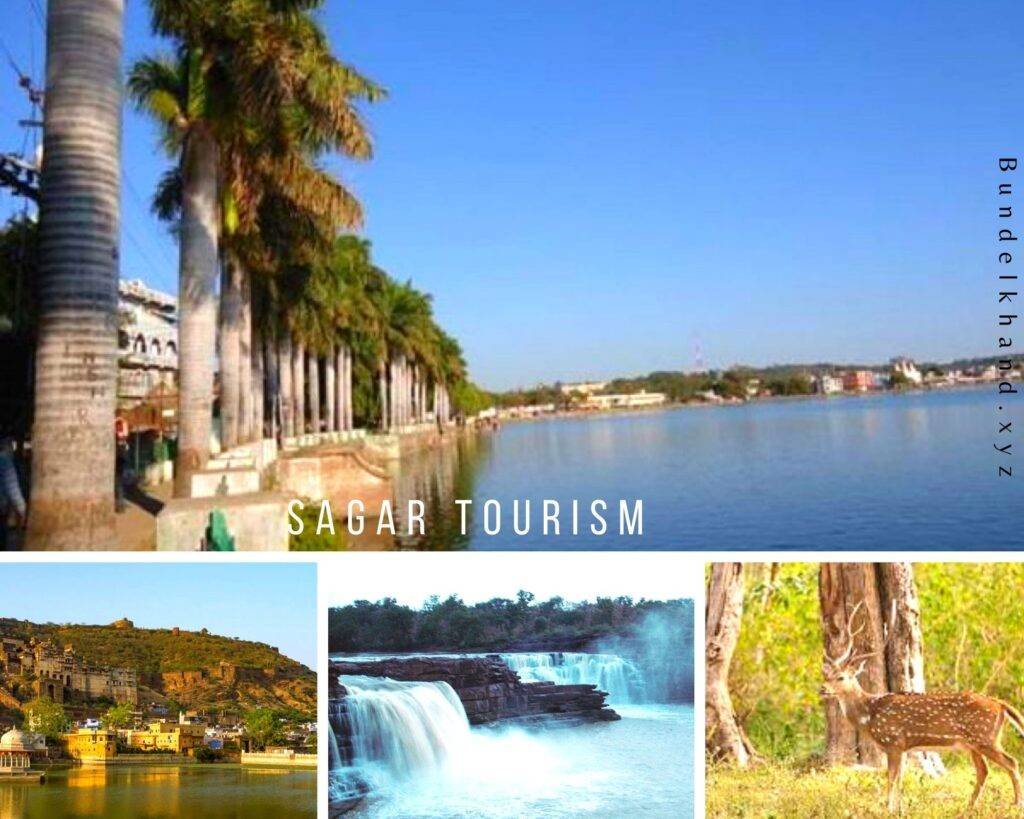 Sagar is the kind of town you'll love to visit over and over again. Each time you visit Sagar, the different sides of it can start to unfold. This list will help you decide what to do on your Sagar getaway, and make it a priority. Find a combination of must-see tourist spots, overlooked local hangouts, and maybe even check out some new experiences.
Lakha Banjara Lake
Rahatgarh waterfall
Abchand forest reserve
Varun Smriti Park
Bhapel
Dr. Hari Singh Gour University
Final words on bundelkhand tourism
I hope you visit these beautiful tourist places in Bundelkhand. We need to value the tourist spots we have in Bundelkhand instead of chasing others. We need to encourage others as well to value our land and natural treasure.
Thanks for reading. Share it with your friends. Also, share your thoughts in the comment section.
Read about bundelkhand tourist places in Hindi
Best tourist destinations in Bundelkhand (Uttar pradesh)
Best tourist destinations in Bundelkhand (Madhya pradesh)
Frequently asked questions about Bundelkhand tourism
What are the best waterfall in Bundelkhand?
Brihaspati kund waterfall near panna
Shabri waterfall near chitrakoot
what are great spiritual tourist places in bundelkhand?
Khajuraho, Chitrakoot Dham , Dharkundi, markundi, Maihar and many more spiritual places are there in bundelkhand
Why Khajuraho is famous in Bundelkhand?
Khajuraho is famous for beautiful temples constructed by Chandela kings and erotic sculptures on the wall of ancient temples and buildings.
Is Bundelkhand is beautiful?
Yes, Bundelkhand is a very beautiful places. Its a historic places filled with a lot of natural beauty
Best tourist destinations in Bundelkhand everyone should know about
Best tourist destinations in Bundelkhand you must go to