The beautiful Panna valley has always been a tourist destination for people all around the world. There are a ton of Places to see in Panna that will bring you closer to nature and spirituality . Panna has also known as the jewel of god on earth and it is full of natural beauty. starting from the magnificent waterfall, marvelous jungles and diamond mines are one to look for.
If you are planning to take a vacation with friends and family in Panna then you must read this blog till the end. I will write about the best places to see in Panna.
Best places to see in panna
Here is the list of must-visit tourist destinations near Panna city. These tourist destinations in Panna will bring you close to nature and it will refresh you with its beauty.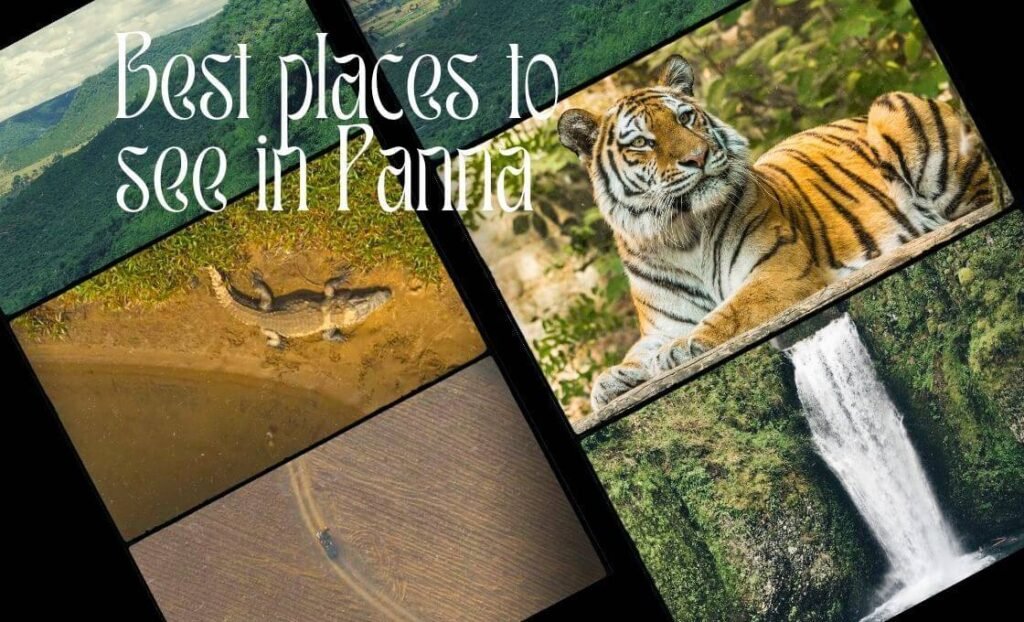 Panna national park – Tiger reserve sanctuary
The wildlife sanctuary of Panna, Panna national park is India's 22nd Tiger Reserve. Situated between Panna and Chatarpur Districts of M.P, this beautiful national park is very close to the Indian heritage site Khajuraho. A jungle safari in this Panna sanctuary is a wonderful experience where you travel in an open Jeep through the dense forest and beautiful canyons while witnessing wild animals getting through their normal day, doing their own things.
Panna national park is primarily famous for its tiger but it has also got around 8 varieties of exotic creatures such as leopard. The national park is not only a wildlife enthusiast's dream, but it also possesses natural beauty. Beautiful gorges and captivating waterfalls
are a visual feast. Boating on the Ken River adds to the enjoyment of your trip.
Read the complete Guide to heavenly Panna national park Tiger reserve
Brihaspati Kund Panna
400 feet high Brihaspati kund waterfall also Known as Niagara Falls of India is situated in Pahari Khera village in Panna District (Madhya Pradesh). Brihaspati kund in Panna is known for its natural beauty and magnificent waterfall which is 400-feet in height and approx 200-300 feet wide. This waterfall is a must-visit place near panna
Reaching the bottom of the Brashpati Kund waterfall is nothing less than an adventurous trek that is full of rocky roads and old age stairs which were made by cutting mighty mountains. While walking down to the heart of Brihaspati Kund via rocky road, you can enjoy the beautiful visuals of the valley around which is spread throughout the area.
You will enjoy every moment of your trip to Brihaspati kund Panna, let it be the road trip in the valley, trekking via mountains, taking bath in the cold water under the waterfall, having a picnic there, or just sitting there while watching the water falling from great height making huge roar, it all give so much peace of mind. you can go to this place with family, friends, and loved ones.
Brihaspati Kund waterfall Panna -most beautiful Place to visit
Khajuraho
Khajuraho is very near to Panna City and you can not afford to miss this world-known tourist hor spot near Panna. If you're drawn to spirituality and architectural legacy, India is the place to go because it's full of places and sites that will satisfy your thirst for soul-stirring discovery.
The sights that will accompany you are exquisite temple complexes with Nagara-style architecture, but that's not all the temples here that are embellished with erotic sculptures.

It's no surprise that Khajuraho is known as the Kamasutra Land. Just to add, though Khajuraho may not be a great family vacation, it is a must-see tourist attraction for art and
architecture dating back to 950 AD. There are plenty of attractions to explore in Khajuraho to satisfy your curiosity about the rich history and cultural portrayals that stretch back several centuries.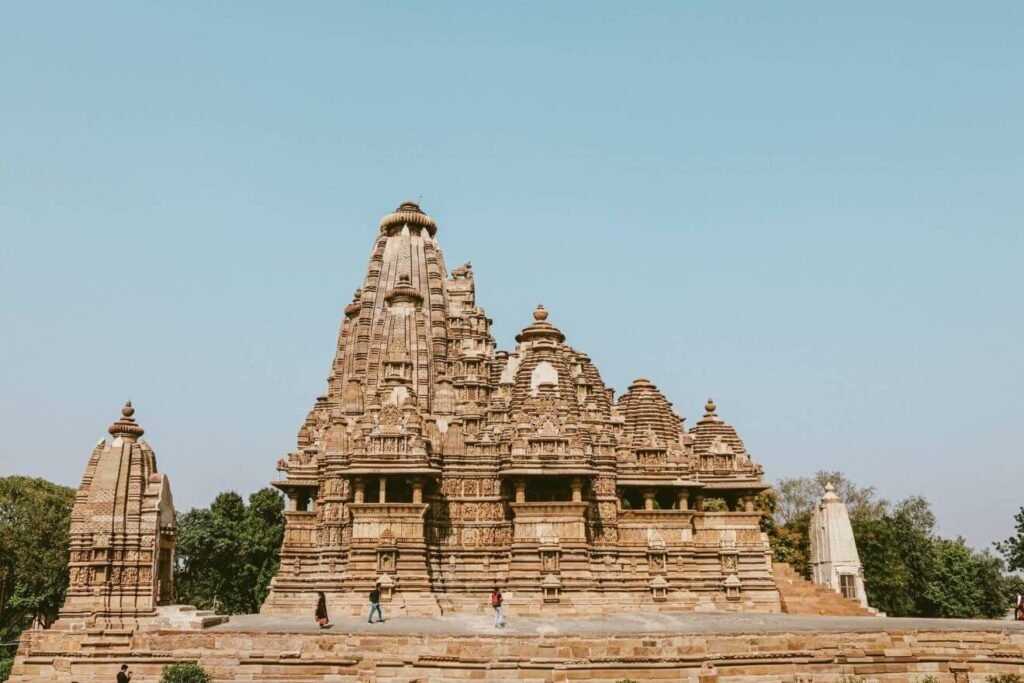 When the hustle and rush of modern life leave you feeling tired and detached, a journey across history and fascinating traditions of older times will renew your curiosity and captivate your senses. Read the below article if you want to know about places to see in Khajuraho
15 most beautiful places to visit in Khajuraho
Kalinjar Fort
The impregnable fortress of Kalinjar fort, near the temple-city and World Heritage Site of Khajuraho, should be on the must-visit list of all history and art lovers around the world. Kalinjar Fort is also a goldmine for landscape photographers as the panoramic view from the Kalinjar fort is mind-blowing. You must visit this place when you are in Panna. It is just 70 Km from Panna
Kalinjar fort has an undeniable place in Indian History. Many decisive battles were fought for the possession of this strategically located fort in ancient, medieval, and modern times, but the military aspect alone does not exhaust the importance of Kalinjar. The place is also a symbol of cultural and religious glory.
If you are looking to learn about the history and places to see in Kalinjar then hang around till the end as I am going to take you on a fun trip to Kalinjar via this blog so hang around till the end. Let me start with a brief history of Kalinjar before diving into our experience of our trip.
Read- Complete travel guide to beautiful and histori Kalinjar Fort
Raneh Falls Panna
Raneh Falls is another interesting tourist destination that you must see in Panna. it will soothe your heart. This waterfall, which is about 30 minutes from the temple town of Khajuraho, is best visited during the monsoon season to see a complete flash of flowing water. Raneh waterfall is a beautiful sight that is located only 21 km away from the Khajuraho bus stand towards Panna.
The magnificence of this location, however, is not limited to the waterfall; it also includes the rock formations. The granite landscape looks to be made up of a succession of crystal towers as if the rocks have been carefully carved from the top. The landscape, emerald rivers, and sandy granite rock walls are all so stunning that you won't blink. A day trip to Raneh Falls will certainly attract nature lovers.
Pandava Falls and Pandava Caves
These caves were built by the Pandavas during their exile, which were later rebuilt by the kings of Panna as they are today.At a distance of 14 km from Panna and 34 km from Khajuraho, Pandava Falls is a serene waterfall located inside Panna National Park in Panna district of Madhya Pradesh. Situated on the Khajuraho – Panna highway, Pandava Falls is one of the scenic waterfalls in Panna and one of the top Khajuraho sightseeing placesPandav Falls is year-round waterfall shed by a tributary of the Ken River in Madhya Pradesh.
This waterfall falls from a height of about 30 meters into a heart-shaped pool. It is surrounded by lush green forests and is at its peak during the monsoon season. The serenity, purity, and mystical atmosphere of Pandav Falls attract locals, national and international tourists. Although you can visit this place any time of the year winters and monsoon is the best time because it is a bit difficult to come here in the summers. There are about 300 steps to go down, so you should plan this trip if you are physically fit for that
Ken Gharial Sanctuary
This nature reserve in Panna is another tourist hotspot that offers scenic sights of critically endangered animal species. This nature destination is adjoining the Panna National Park. the sanctuary is ideal for nature lovers and trekking enthusiasts all around. It falls into the route of the beautiful Ken river, which flows northwards to meet the Holy Ganga river.
Diamond mines in Panna
Take a tour of Diamond mines in Panna and see the process of diamond exploration and talk to the experts who will answer all the questions you might have about diamonds and their exploration. You can book a day tour where they will take you through minefields and will explain the process of diamond extraction
Ajaygarh Fort: The Historical Marvel
The Ajaygarh Fort at Ajaygarh, Madhya Pradesh, is an important architectural monument of the Chandela dynasty. It is located in the Panna region of Madhya Pradesh. It takes about four hours to drive from Khajuraho to the fort, which is 65 kilometers away. Ajaygarh fort is a must-see for history buffs who want to learn more about medieval India. This place should be in your must-visit place near Khajuraho
The fort is not only situated in the stunning Vindhya range, but it also has an interesting history. The fort served as the Chandela dynasty's capital for the last few years of their reign, and it is located near the Chandela shrine. Remember that to get into the fort, you'll have to climb 500 steep stairs. Also, bring the food when you visit here as you will not find any place to eat nearby as this fort is isolated and you won't find any place to buy food.