Places to visit in Khajuraho: India's most popular historical, spiritual and architectural heritage site Khajuraho was established by the Chandela kings. Khajuraho is the most sought-after place by tourists all over the world due to its architectural style and erotic sculptures. UNESCO has included the world heritage site due to its cultural richness. Khajuraho is famous for erotic rock carvings on the outer walls of temples that are highly inspired by Kamasutra, well renowned Indian book of sex.
Chandela kings were known for their contribution to beautiful architectural monuments and temples. They had built 85 Temples out of which only 25 temples are still there. If you are one who is interested in Indian history, culture, and beautiful Indian architecture then you must visit Khajurao
Khajuraho picture gallery – Beautiful images from Khajuraho
Photos of Khajuraho
21 must-visit places in Khajuraho you can not afford to miss
Khajuraho picture gallery – Beautiful images from Khajuraho
There are many beautiful temples in Khajuraho along with some great museums, waterfalls, national parks, and resorts. You will see many ancient erotic sculptures depicting different acts of sex between men and women and it had given Khajuraho the fame of being the Kamasutra city of India.
Let me start by giving you the top 21 places to visit in Khajuraho, but before we do that, let me show some 360 view maps of Beautiful places to see in Khajuraho
List of 21 best places to visit in Khajuraho
Kutni dam also known as Kutni Island resort in Khajuraho is a sensational experience you must enjoy with your partner. This place is an ideal romantic destination for newlyweds because of the ambiance it provides. A long walk around this artificial island in the late evening followed by a night at the cottage where the balcony is facing the water can be very rejuvenating for a newly married couple.
Kutni Dam was built in January 2019. This complete project was funded by the Swadesh darshan scheme of the ministry of tourism. This has added to one more jewel to Khajuraho which is already the most visited tourist attraction in Bundelkhand.
This beautiful place is not just for newlyweds, it is also a perfect destination for families and friends. You can come here with your kids and enjoy the boating experience around this island.
Read about Kutni Island (Kutni dam) resort in Khajuraho could be your perfect romantic getaway in 2022
2 . Kandariya Mahadeva Temple
Kandariya Mahadeva Temple is dedicated to lord shiva and is one of the most visited temples in Khajuraho. This temple is known for its vivid architecture and erotic carvings of men and women on the walls. The origin of these temples is traced back to 1050 and was built by Chandela kings. This is the place to must visit in Khajuraho.
Kandariya Mahadeva Temple is a great tribute to Lord Shiva and it houses a magnificent Shiva Linga crafted with pure marble and it has a tremendous spiritual inclination towards the religious faith of Hindus. See the beauty of Kandariya Mahadeva in 360 angle view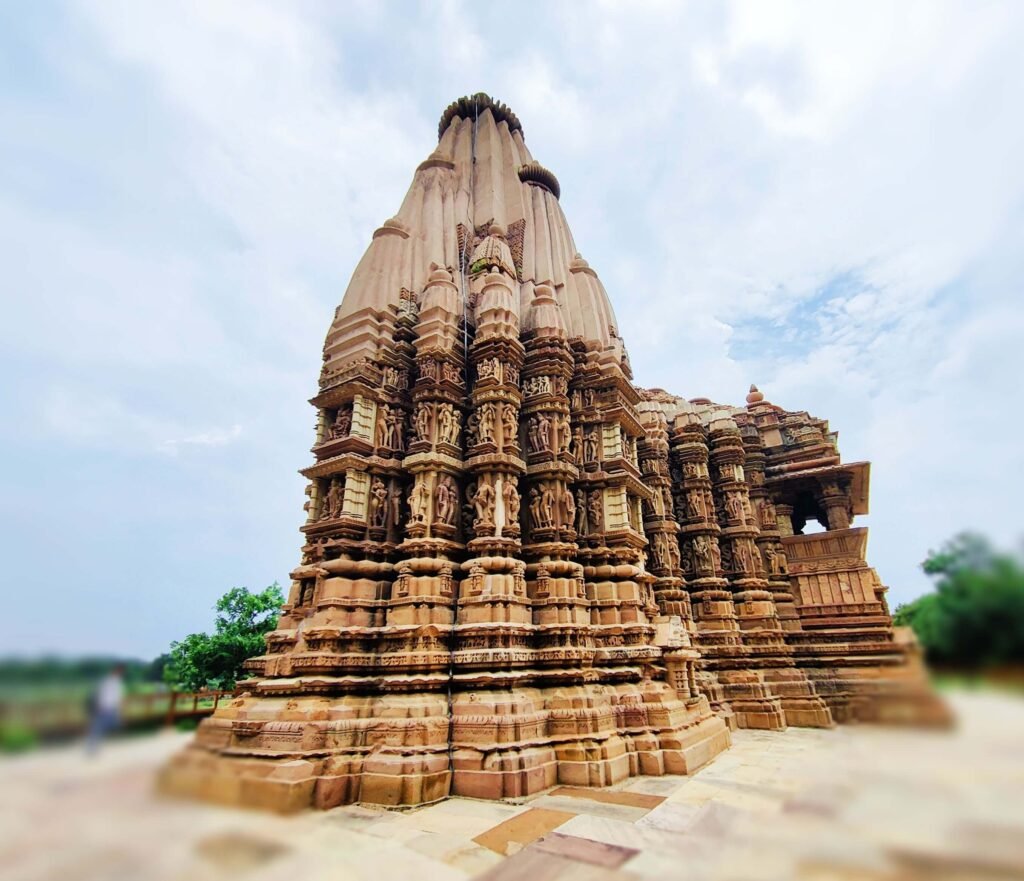 3.Chaturbhuj Temple in Khajuraho
Built-in AD 1100, the Chaturbhuj Temple is also known as the Jatakari Temple and is counted amongst the Southern Group of Temples in Khajuraho. The shrine stands 3 kilometers away from the Eastern Group in the Jatakari Village and is popular for its impressive architecture. It has an entrance porch, sanctum without ambulatory, mandapa, and vestibule.
This temple is one-of-its-kind in the whole complex as it is the only shrine without any erotic carvings on the walls. Dedicated to the Hindu Lord Vishnu, the shrine houses a 9 feet tall idol in His Chaturbhuj form (with four arms). This is the reason why the temple has been named the Chaturbhuj Temple. Enjoy 360 views of Chaturbhu temple
4. Archaeological Museum Khajuraho
This stunning museum was Originally built by W.A. Jardine in the year 1910 and was reconstructed in 2016. This Museum exhibits over 1500 sculptures from the temples that were built during Chandela's rule. It reflects the traditions and culture of Hindu and Jain religions.
This museum in Khajuraho also tells the story of Chandela's history and it is maintained by the tourism department. The Indian government is making an effort to preserve the great heritage and history of Khajuraho through this museum. You must visit this great place to go through the thrilling and rich history of ancient India.
5. Beni Sagar Dam
After spending a whole day around famous temples in Khajuraho, an evening visit to Beni Sagar Dam will relax you and you will be feeling refreshed. Beni Sagar Dam is built on Khuddar rive and stretches across 8 sq km. Damn offers a tranquil atmosphere and the evening breeze makes it a perfect spot for a family visit in the evening.
This Nature hotspot is within 1 km of the Khajuraho railway station. You can enjoy various activities such as hiking, rowing. You can enjoy a long walk around the dam and boat rowing afterward. This is an ideal place to come and soothe your tired and stressed soul from the chaotic daily life.
6. Javari Temple – places to visit in Khajuraho
Located in the far east of the Khajuraho group of temples and dedicated to Lord Vishnu, the Javari Temple is one of the top places to visit in Khajuraho. Temple walls are carved with exquisite images of various men and women in different sexual postures.
Khajuraho picture gallery – Beautiful images from Khajuraho

breath-taking views of lush green grass surrounding the temple made of rocks easily make it a must-visit place in Khajuraho. A visit here can certainly be worth it as the artwork is amazing in the Niranthara temple, mandapa, sanctum, vestibule, and portico.
7. Lakshmana Temple – places to visit in Khajuraho
Lakshmana Temple is the oldest temple in Khajuraho and it has similarities with Kandariya Mahadev Temple. This temple is dedicated to the Hindu Lord Vishnu and it harbors a portrayal of Vaikuntha-Vishnu as its sanctum.

This temple has around 600 carvings of Hindu deities and the divine trinity of Brahma, Vishnu, and Shiva graces the entrance of the temple. inside the shrine, you can witness a beautiful female bracket figure and a high carved ceiling at the entrance porch of the temple
The park is located in the Chhatarpur district of Madhya Pradesh, and it is situated 50 km from the Khajuraho bus stand. If you are a nature and wildlife lover, Panna national park is the perfect spot to enjoy a wildlife experience near Khajuraho. This place is known for tigers that can be easily seen while taking a safari trip.
It is within 2 hours' driving distance from Khajuraho, you can either hire a cab or use your personal car. A number of wildlife species call this national park their home, including Cheetah, Langur, Jackal, Chinkara, and Wild Bear. This is also a must-visit place in Khajuraho and with this, I conclude my list.
9. Gangau Dam: For A Fun Boat Ride
Gangau dam is located at the intersection of the Ken and Simiri rivers. This dam was built during British rule and it took 6 years (1909-1915). This fun-time place is situated 29 km away from the heart of Khajuraho city and it takes 30 minutes to reach via bus. Monsoon season is the best time to visit this beautiful natural marvel.
Khajuraho picture gallery – Beautiful images from Khajuraho
The dam is situated amid the Panna tiger reserve and offers a mesmerizing view of the jungle and the surrounding river. You can enjoy activities like boating and angling in Gangau Dam. There is a tunnel in the dam that connects it from one end of the dam to the other and it will be a lifetime experience for you to walk through the tunnel. This place is very popular among tourists and you can not afford to miss a visit to this place
10. Jain Museum (Sahu Shanti Prasad Jain Kala Sangrahalaya)
Jain Museum is located at a distance of 1 km from the Khajuraho bus stand, and it is known initially as Sahu Shanti Prasad Jain Kala Sangrhalaya. Ever since 1987, as an establishing year, this museum gathers many tourists, historians, and children for educational tours.

This museum guards a number of ancient Jain artifacts and remains that are older than the oldest temples in the complex. You will be able to witness the magnificent sculptures of the 24 Jai Tirthankaras in the garden of the museum. There are also statues of Tirthankaras (spiritual leaders) and Makara Toranas situated right at the museum entrance.
People of Jain religion were an inherent part of Khajuraho city and they have left a significant impact of their art and culture behind.
11. Vishvanatha Temple – Must visit place in Khajuraho
Vishwanath Temple, which is part of the Western Group of Temples in Khajuraho, is a shrine of Lord Shiva. It has a stunning Shiva Lingam made of marble in its center. This temple is made of 101 small Shiva Lingams. The Vishvanath Temple is set amid greenery and a gorgeous milieu. Temple also carries a glorious image of Lord Brahma, along with a colossal statue of Nandi – the Bull.
12. State Museum of Tribal and Folk Art in Khajuraho
The State Museum of Tribal and Folk Art is situated in Chandela Cultural Complex is a must-visit place in Khajuraho. You can enjoy a gallery that showcases traditional and cultural artifacts along with relics of Chandela's glorious history.
Many people can find going to museums boring but if you take to make an effort to go and see the artifacts present there, it can help you associate with ancient Indian history and culture.
13.Pandava Falls and Pandava Caves
These caves were built by the Pandavas during their exile, which was later rebuilt by the kings of Panna as they are today. At a distance of 14 km from Panna and 34 km from Khajuraho, Pandava Falls is a serene waterfall located inside Panna National Park in the Panna district of Madhya Pradesh. Situated on the Khajuraho – Panna highway, Pandava Falls is one of the scenic waterfalls in Panna and one of the top Khajuraho sightseeing placesPandav Falls is year-round waterfall shed by a tributary of the Ken River in Madhya Pradesh.
This waterfall falls from a height of about 30 meters into a heart-shaped pool. It is surrounded by lush green forests and is at its peak during the monsoon season. The serenity, purity, and mystical atmosphere of Pandav Falls attract locals, national and international tourists. Although you can visit this place any time of the year winters and monsoon is the best time because it is a bit difficult to come here in the summers. There are about 300 steps to go down, so you should plan this trip if you are physically fit for that
14. Maharaja Chhatrasal Museum
Built By the Chattrasal dynasty in the year 1955 at the bank of the Dubela lake, is one of the best places to visit in Khajuraho. It is located at a distance of 62 km and you can reach there in 1 hour by car. This museum takes you on an interesting journey through the Chattrasal dynasty and their legion and cultural heritage. Maharaja Chhatrasal Museum is also known as Dubela Museum.
This museum has all the exhibits of their lifestyle and grandeur and it also has an artifact of different arts and culture related to the King. If you are an art lover, you will recognize some of the paintings that are hugely popular all around the globe, including Chandela and Kalchuri arts. The external part of the museum itself is a view to be adorned. Not only is it architecturally beautiful, but the surrounding is quite impressive as well.
15. Ken Gharial Sanctuary
This nature reserve in Khajuraho is another tourist hotspot that offers scenic sights of critically endangered animal species. This nature destination is adjoining the Panna National Park. the sanctuary is ideal for nature lovers and trekking enthusiasts all around. It falls into the route of the beautiful Ken river, which flows northwards to meet the Holy Ganga river.
This place is famous for crocodiles that can be seen wandering around the Ken river. While seeing a crocodile can excite everyone but one must not forget to take precautions while visiting this place as these animals are lethal as well. Do not try to take a close selfie when you see crocodiles in proximity.
16. Brihaspati Kund – places to visit in Khajuraho
400 feet high Brihaspati kund waterfall also Known as Niagara Falls of India is situated in Pahari Khera village in Panna District (Madhya Pradesh). Brihaspati kund in Panna is known for its natural beauty and magnificent waterfall which is 400-feet in height and approx 200-300 feet wide. Reaching the bottom of the Brashpati Kund waterfall is nothing less than an adventurous trek that is full of rocky roads and old age stairs which were made by cutting mighty mountains.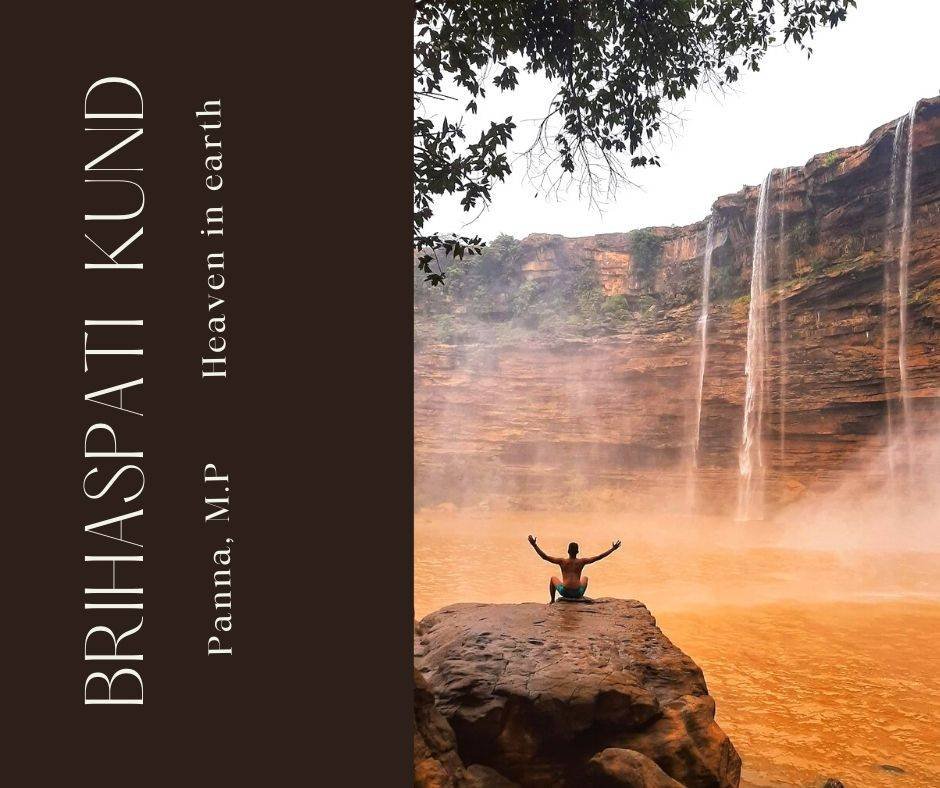 While walking down to the heart of Brihaspati Kund via rocky road, you can enjoy the beautiful visuals of the valley around which is spread throughout the area. You will enjoy every moment of your trip to Brihaspati kund Panna, let it be the road trip in the valley, trekking via mountains, taking bath in the cold water under the waterfall, having a picnic there, or just sitting there while watching the water falling from great height making huge roar, it all give so much peace of mind. you can go to this place with family, friends, and loved ones.
Brihaspati Kund waterfall Panna -most beautiful Place to visit
17. Kalinjar Fort – places to visit in Khajuraho
the impregnable fortress of Kalinjar fort, near the temple-city and World Heritage Site of Khajuraho, should be on the must-visit list of all history and art lovers around the world. Kalinjar Fort is also a goldmine for landscape photographers as the panoramic view from the Kalinjar fort is mind-blowing.
Kalinjar fort has an undeniable place in Indian History. Many decisive battles were fought for the possession of this strategically located fort in ancient, medieval, and modern times, but the military aspect alone does not exhaust the importance of Kalinjar. The place is also a symbol of cultural and religious glory.
Read- Complete travel guide to beautiful and histori Kalinjar Fort
18 Raneh Falls Panna – places to visit in Khajuraho
Raneh Falls is another interesting tourist destination that will soothe your heart. This waterfall, which is about 30 minutes from the temple town of Khajuraho, is best visited during the monsoon season to see a complete flash of flowing water. Raneh waterfall is a beautiful sight that is located only 21 km away from the Khajuraho bus stand towards Panna.
The magnificence of this location, however, is not limited to the waterfall; it also includes the rock formations. The granite landscape looks to be made up of a succession of crystal towers as if the rocks have been carefully carved from the top. The landscape, emerald rivers, and sandy granite rock walls are all so stunning that you won't blink. A day trip to Raneh Falls will certainly attract nature lovers. Rainha Falls should be included your must-visit place list near Khajuraho
19 Ajaygarh Fort: Place to visit in Khajuraho
The Ajaygarh Fort at Ajaygarh, Madhya Pradesh, is an important architectural monument of the Chandela dynasty. It is located in the Panna region of Madhya Pradesh. It takes about four hours to drive from Khajuraho to the fort, which is 65 kilometers away. Ajaygarh fort is a must-see for history buffs who want to learn more about medieval India. This place should be in your must-visit place near Khajuraho.
The fort is not only situated in the stunning Vindhya range, but it also has an interesting history. The fort served as the Chandela dynasty's capital for the last few years of their reign, and it is located near the Chandela shrine. Remember that to get into the fort, you'll have to climb 500 steep stairs. Also, bring the food when you visit here as you will not find any place to eat nearby as this fort is isolated and you won't find any place to buy food.
20. Matangeshwar Temple
Matangeshwar Temple was built by the Chandela dynasty in the 9th century. It houses an 8 feet tall Shiva Lingam which was crafted with yellow limestone. You see a lot of people lining up during the morning arati and this place is very crowded during the festive season. You just experience the atmosphere around this temple during Morning aarti, it will give you a delightful experience.
21. Adinath Temple
Adinath temple, which is part of the Jain group of temples, was built in the 11th century and was created as a memorial to Jain Saint Adinath. Adinath Temple is where you can wander and admire medieval Indian architecture as you circumambulate around its Pradakshina. Temple is a long-standing reflection of the Indo-Aryan architectural style. It got marvelous figures of female goddesses.
22. Duladeo Temple
The temple is situated on the banks of the Khodar River in Khajuraho village, on an area of 6 square kilometers, in the southern group of the Khajuraho Group of temples. The sculptures at the temple are very similar to those discovered among the ruins of a temple in Jamsor, Uttar Pradesh.
It has been deduced from this closeness that the sculpturing at both locations was the product of the same sculptors and that they were created between 1060 and 1100, during the reign of Kirttivarman. However, the Archaeological Survey of India has inferred the period of temple building activity in Khajuraho from 950 to 1150 AD based on paleography and the architectural style.
Mahoba sun temple is a must-visit place near Khajuraho. The Majestic Rahila Sagar Sun Temple (Locally known as Rahiliya temple) has located 3 km from Mahoba in a southwest direction near Mirtala and Rahiliya village. In this temple, Chandela kings used to worship the sun. In those days the sun was considered as a source of energy, health, and positivity in life and Kings use to worship the sun so they will stay in power for a long time
Some honorary mentions
Brahma Temple
Jagadambi Temple
Chitragupta Temple
Vamana temple
Ghantai Temple
Shantinatha Temple
Duladeo Temple
Bijamandala Temple
Final words
Traveling to a place like Khajuraho brings you closer to history, art, and nature. You can visit Khajuraho with your friends and family and enjoy this once-in-a-lifetime trip. This place suggests that people during those days were more open towards sex and it was not subjected to the taboo that it has become these days.
I hope this blog( and list of places to visit in Khajuraho) had helped you plan your visit to Khajuraho. Please share it with your friends.