An architectural marvel and UNESCO heritage site Fatehpur Sikri is a town founded by Mughal king Akbar located 37 km from Agra. The royal city of Fatehpur Sikri, which served as the Mughal capital for a short period, was founded by Akbar in 1569. This beautiful city was built in the respect of Sufi saint Sheikh Salim Chisti. Fatehpur Sikri is surrounded by an 11-kilometer-long fortification wall with numerous gateways.
Architectural marvel Fathepur city was built between 1571-1573 predominantly using red sandstone. It was the first planned city of Mughals. It included magnificent administrative, residential, and religious structures including palaces, public buildings, mosques, and living areas for the court, army, king's servants, and an entire city.
10 most popular places to see in Fatehpur sikri
Fatehpur Sikri History
It is known that Akbar was childless for a long time. He visited many temples, mosques, and dargahs to pray for a child. It was only when Akbar visited Sufi saint Salim Chisty at Sikri who assured Akbar that he will soon become the father of a beautiful son. It came true and Akbar named his child Salim in the respect of the Sufi saint. Salim later became King Jahangir and took over the throne from Akbar.
Akbar was thankful to Sufi saint Salim Chisty and to honor him, he decided to build the city. This city got the name Fathepur i.e city of victory after Akbar won over the Gujrat. He built Buland Darwaza as a symbol of his victory over Gujrat. Before Akbar. This place served as the Mughal capital for over 10 years.
In 1586, Akbar set out for his campaigns in the Punjab and Kabul. For several years, he remained in Punjab, using Lahore as his headquarters till his return in 1598. When he returned, he took up residence at the Agra Fort, not at Fatehpur Sikri. The beautiful city of Fatherpur Sikri was finally by Akbar in 1610 due to a lack of water.
The city was ghosted and was in ruins until 1986 when it was designated as a UNESCO World Heritage site. UNESCO manages the site and takes measures to ensure its integrity of this place.
Fatehpur Sikri architecture
Fatehpur Sikri architecture exhibits both Muslim and Hindu architectural influences. You can see a glimpse of Rajasthani style in the Jodha bai mahal. It has used the windows from where Jodha bai used to watch Tansen playing his music to resemble the one that can be seen in the forts and Mahal all-around Rajsthan. You can find some examples of Gujarati style as well.
The complete city of Fathepur Sikri is built using red sandstone except for the tomb of Salim Chisty which is built using white marble, just like the one you see in Tajmahal. The Mahals and buildings such as 5 mahals, Diwan-I-Khas, and Diwan-I-Am were built using Vastu sastra. Small walls in these places are because of Vastu only, not due to the fact that Akbar was short in height.
The city was originally rectangular in shape, with a grid pattern of roads and by-lanes that cut at right angles, as well as effective drainage and water management system. The city's administrative block, royal palaces, and Jama Masjid are all located in the city center. The buildings are made of red sandstone with little marble.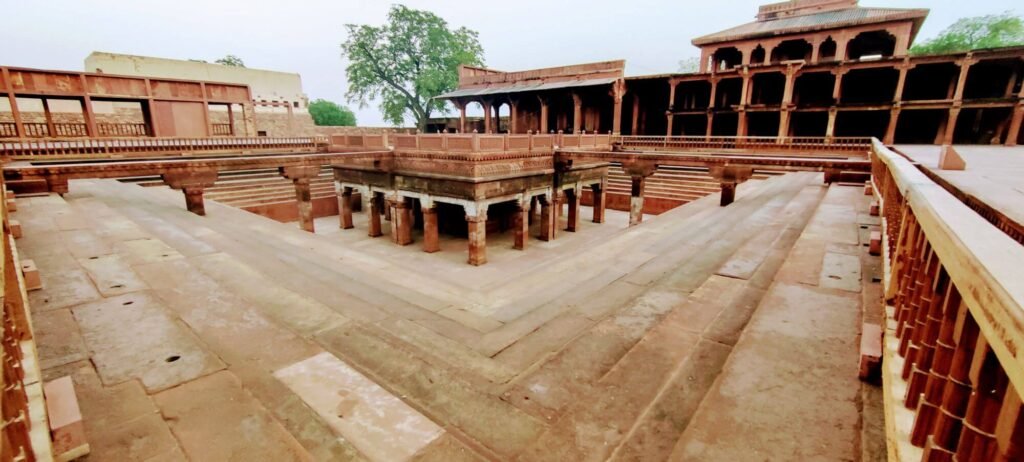 Historical monuments of Fatehpur Sikri
Buland Darwaja
The Buland Darwaza, or loft gateway, at Fatehpur Sikri, was built in 1601 by Akbar, the great Mughal emperor. To mark the anniversary of his victory over Gujarat, Akbar built the Buland Darwaza. The Buland Darwaza, which is approached by 42 steps and is 53.63m high and 35 meters wide, is the world's highest gateway and an incredible example of Mughal architecture.
It is constructed of red and buff sandstone and is embellished with carving and inlay of white and black marble. An inscription on the Buland Darwaza's central face shines a light on Akbar's religious tolerance and open-mindedness.
Jama Masjid and salim Chisti dargah
Among the religious monuments at Fatehpur Sikri, the Jama Masjid was the first to be built on the ridge's summit, completed in 1571-72. This mosque contains the tomb of Shaikh Salim Chisti, an extraordinary work of sculpted decoration completed in 1580-81 and further embellished during Jahangir's reign in 1606. Jama Mashij is built of Red stone while Dargah is built using white marble.
The Diwan-i-Am (Hall of Public Audience)
It is surrounded by a series of wooden pillars, that are broken up at the west by the insertion of the emperor's seat, which is in the form of a small raised chamber separated by perforated stone screens and has a pitched stone roof. This chamber has direct communication with the imperial palace complex, which is clustered along with a vast court.
Diwan-i-Am was used as a courthouse for the Normal public. He listened to the issues of the public and punished the criminals at this place. This hall was also used for celebrations and public prayers.
Diwan-khana-I-khaas ( Hall Of Private Audience)
This place was used by Akbar to discuss the issues with his personal advisors and take important decisions about his government. If one enters it, there is only one vaulted chamber. A profusely carved column facilitates a colossal-bracketed capital in the center. Four narrow causeways protrude from the core and lead to each of the chamber's four corners. It is thought that Akbar's throne occupied the circular space above the capital, with the four ministers assigned to the four corners.
Palace of Jodha Bai
The largest building of the residential complex, which has richly carved interior pillars, balconies, perforated stone windows, and an azure-blue ribbed roof on the north and south sides. This spacious palace was assured of privacy and security by high walls and a 9 meter guarded gate to the east. The architecture is a blend of styles with Hindu columns and Muslim cupolas.
5 Mahal (Hawa Maha)
Panch Mahal is an extraordinary, entirely columnar five-story structure disposed asymmetrically on the pattern of a Persian badger, or wind-catcher tower. Akbar used to spend the evening sitting at the top during summers. This place was very windy due to its height hence also known as Hawa Mahal.