Just 37 Km from Agra, Fatehpur Sikri is another historical marvel established by Mughals. Akbar founded this city in respect of Sufi saint Sheikh Salim Chisti in 1569. Fatehpur Sikri served as a Mughal kingdom for a few years before getting abandoned and turned into a ghost city in 1610.
There are many places to see in Fatehpur Sikri that will surprise you with their architectural beauty. It included magnificent administrative, residential, and religious structures including palaces, public buildings, mosques, and living areas for the court, army, king's servants, and an entire city.
If you are visiting Agra to see the magnificent Taj Mahal then you must come to see this beautiful city Fathepur Sikri and drown yourself in historic beauty. I will share some personal tips that you will not find anywhere. It will save you money and other troubles that you might face, so read till the end.
Though the monuments are good, the place is surrounded by Goons and frauds. I have mentioned some tips throughout the blog that will help you.
Read about Fatehpur Sikri's history and architecture
Read in Hindi – फतेहपुर सीकरी में घूमने के लिए 10 बेहतरीन जगह
10 most beautiful places to see in Fatehpur Sikri
Fathepur Sikri is currently managed and taken care of by UNESCO. Places to see in Fathepur are divided into 2 parts, Fatehpur Sikri is made up of two different parts — the mosque and palace complex — surrounded by a fortification wall. 1st part (Mosque) is Buland darwaja, Jama masjid and Salim chisti dargah. And the 2nd part (Palace complex) consists of many palaces, parks, and buildings where Mughal king Akbar used to live with his wife Jodha. Visitors require a ticket for the palace complex but not the mosque.
TIP: when you enter the Fatehpur Sikri, some guide will approach you. He will tell you that a personal vehicle is not allowed and you will have to take an auto. He will ask you to hire him as his guide. It's best if you avoid him, park your car in the parking, and take an auto. You can get some good guides there, negotiate with him to show you both sides, Jama Masjid, Dargah, and Bunland darwaja. And also the palace side. It should not take more than 300-400 RS. Do not pay them until they have shown you everything and explained the history. Stay away from loot and stay safe.
1. Buland Darwaza
The world's highest gateway Buland Darwaja is an incredible example of Mughal architecture. 54 meters in height, this magnificent gateway was built to symbolize Akbar's win over Gujarat. Buland Darwaja is made of red and buff sandstone, and its gate is designed with black and white marble. This server is the main entrance to the Jama Masjid complex located in Fatehpur Sikri. This is must-visit places in Fatehpur Sikri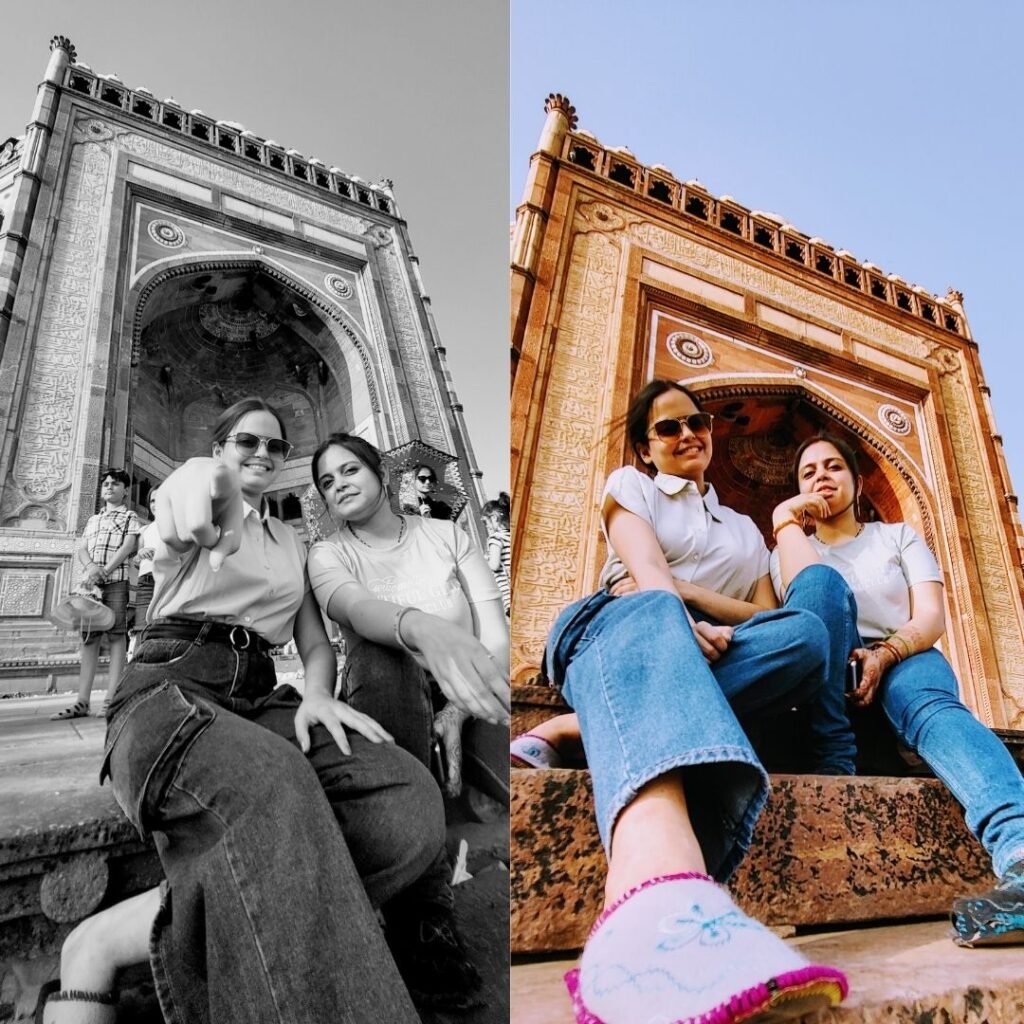 "The world is a bridge pass over it, but build no houses upon it. He, who hopes for a day, may hope for eternity; but the World endures but an hour. Spend it in prayer for the rest is unseen"

On the main gateways, an inscription in Persian reads.
TIP 1: This place looks great from the trains passing by Fathepur Sikri. When you go here, take your time and sit in the stairs in front of it.
2. Tomb of Sheikh Salim Chisti
While all the buildings in Fatehpur Sikri are made of red sandstone, the tomb of Sheikh Salim Chisti is made of white marble, just like we have in the Taj Mahal. Sheikh Salim Chisti was the one who told Akbar (When he was helpless as a child) that he will have a son soon. Once Akbar got a son, he named him Salim and founded the city of Fatehpur Sikri to honor Salim Chisti.
After Salim Chisti. died, Akbar got a tomb made within the Jama Masjid hall. Lacks of people come to visit the tomb of Chisti and make wishes as people believe that the wishes asked here are fulfilled. You are allowed to ask for 3 wishes while tying knots on the tomb wall, 1 knot of each wish.
TIP: Please buy Chadar for dargah from outside before you visit Sikri. Your guide could lure you into buying the chadar inside with 5-10x prices. It's a loot. Also, they will try to push you into giving money, just tell them no firmly.
3. Jama Masjid
Built by Akbar in 1586 under the supervision of Salim Chisti, Jama Masjid showcases the great artwork of Mughal time. Mughal king Akbar used to offer 5 times of prayer here. Even after hundreds of year, This mosque look marvelous. Jama Masjid is one of the country's largest mosques and was marked a UNESCO World Heritage Site in 1986. This place is used by locals and people from the Salim Chisti family chain.
The mosque is a rectangular structure with a large courtyard and entrances from the north, south, and east. The interior of the mosque is decorated with stone carved Mirhabs or altars, and it is one of the most valuable collections of Mughal architecture, indicating the transition of Islamic architecture into Hindu-style architecture. The mosque's interior is also embroidered with glazed tiles, inlaid stones, and paintings that are exquisitely carved with the Holy Quran. This is a must-visit place in Fatehpur Sikri
This concluded the places to see in Fatehpur Sikri that are free of cost. Now we will talk about the other side of Masjid where you will see Old Mahals and garden. These are much more beautiful, filled with great stories. You will have to buy ticket for this. Ticket price is very less for Indians. You must see the sunset from this side as this will be most beautiful sight for you in this whole trip.
4. Jodhabai Palace (Mariam-uz-Zamani Palace)
Jodhabai Palace was also believed to be the Emperor's Harem, where the other women of the royal harem lived. Nonetheless, due to its amazing architecture( A beautiful collaboration of Rajasthani and Arabic styles), it is one of the most important buildings in the complex. Jodha bai palace will remind you of the palaces from Jaipur with balconies.
Jodha Bai also had a Hindu temple within the palace and also had a separate Kitchen where she cooked Veg meals. This beautiful piece of ancient art is a must-see place in Fatehpur Sikri. This large palace was built with the queen's privacy in mind, and it was secured by high walls and an 8-meter guarded gate to the east. Jodha Akbar's love story is associated with it making Jodha Palace, a must-visit place in Fathepur Sikri for all history lovers.
5. Panch Mahal (Hawa Mahal)
The Panch Mahal is one of the most well-known attractions in Fatehpur Sikri, displaying the intricate beauty of Mughal architecture. Emperor Akbar built this five-story monument to serve as a summer retreat for the royal family's women. The Panch Mahal, also known as the wind tower, is made of red sandstone. The structure is also known as the "Badgir" or "Wind Catcher Tower," and the pool in front of it is known as Anoop Talav.
This structure's main purpose is known to be entertainment, and it was frequently used for various theatrical, musical, and dance performances. Panch Mahal is made up of five stories that are built in a pyramidal structure and supported by a total of 176 columns. Originally, the pillars were separated by stone-carved meshes or Jaalis and were most likely intended for the women of the nearby Zanana enclosure. The pillars display carvings of Persian, Hindu, and Jain elements that are worth seeing.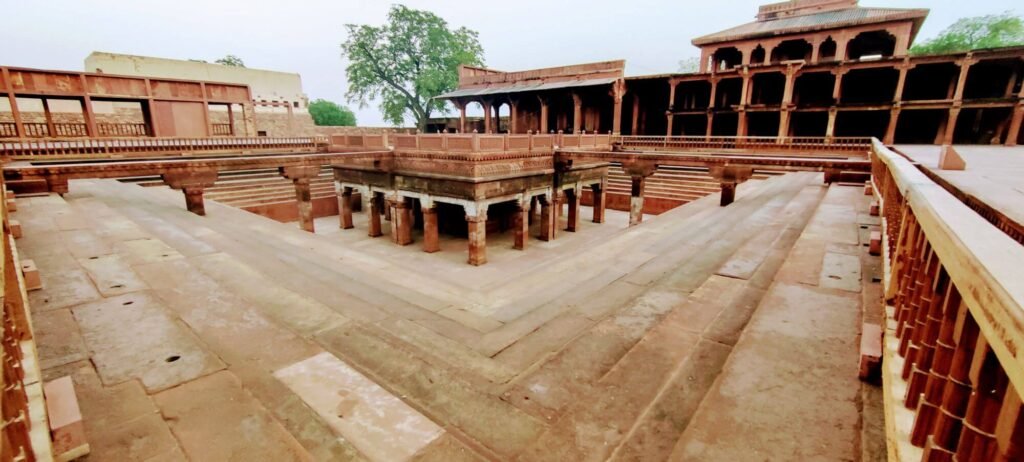 6. Diwan-E-Khaas – Places to see in Fatehpur Sikri
Diwan-E-Khaas or Hall of Private Audience, a 2 storied building with corner kiosks lies to the right of Diwan-E-Am. On entering it, you could find only a single vaulted chamber. An abundantly carved column behind a massive bracketed capital stands in the center. There are four narrow causeways that project from the center and go through each corner of the chamber. It's said that Akbar's throne occupied the round space over the capital and the corners were given to the four ministers.
7. Diwan-E-Am – Places to see in Fatehpur Sikri
This hall was also used for revels and public prayers. It has a walkway on 3 sides of a rectangular courtyard. A pavilion with the Emperor's throne lies to the west with a beautiful Jali screen separated on either side with the ladies attending the court.
8. Birbal's Palace and treasury building
The Birbal palace was constructed around 1571 as the official residence of Raja Birbal, Akbar's Hindu Prime Minister. This location was part of Akbar's Imperial Harem and was home to his senior queens, Ruqayya Begum and Salima Begum. This palace is a true representation of Mughal architecture, as evidenced by intricate carvings, surreal jharokhas, and elevated floral patterns.
You will also find a treasury building in the palace complex that was used for inhouse states' treasure. It was full of diamonds, gold, and other rare stones that Akbar had won from different places.
9. Hiran Minar and Elephant Gate
Emperor Akbar built this minar in honor of his beloved elephant, Hiran. The minar served as a milepost as well as a lighthouse, allowing people to walk with ease after dark. From the ground level, this minar stands tall at a height of 21.34 m in an octagonal shape. The remaining portion of the tower on the other side is circular. In addition, hexagons and six-point stars are designed in the minar. During Akbar's reign, this tower served as a watchtower where women could watch sports, wrestling matches, and animal fights.
10. Archaeological Museum and Mughal Garden
This museum is housed within a treasury building and is located 100 meters from the Diwan-I-Am. This location was in ruins until it was restored between 2002 and 2004. The museum contains pre-Mughal and Mughal artifacts discovered in Fatehpur Sikri. In addition, there are four galleries within the museum that display prehistoric monolithic stone tools. In addition, there are Jain sculptures, miniature stone sculptures, and figurines on display inside the museum.
Next to the Archaeological Museum building, there is a beautiful green garden overlooking and stepping down towards the lake, breaking up the starkness of the hot, red sandstone — a formal Mughal garden laid out on the "Charbagh" principle, emulating the gardens of paradise. It was once walled in for privacy and was central to the palace's three female establishments, complete with a small bathhouse, pavilions, and a central fishpond. Water from the lake was fed into the garden via aqueducts, and as it ran into the pond over a wall pierced with oil lamp niches, it formed a glittering veil as it fell over the flickering lights.
Conclusion – Places to see in Fatehpur Sikri
After you have seen all these places, do not leave yet. Sit down near the garden for a while and relax. You want to close your eyes and think about how this place would have been during the Mughal era. You can paint a live picture of this place. This little exercise will take all your tiredness away and you will feel very calm and satisfied.
Then you take a slow walk around the ruins and see the sun setting in the backside of the Palace complex. Enjoy the beautiful sunset quietly — This can be much better than hours of meditation.
Important things you must read before going to visit the historic wonder Fatehpur Sikri is!
Entry fee in Fatehpur Sikri
The cost is 610 rupees for foreigners and 50 rupees for Indians. Entry is free for children aged 15 years and under. Tickets can be purchased at the entry to the palace complex or online here.
Annoyances that you will face in Fatehpur Sikri
The fake guides are most active near the Buland Darwaza and Jama Masjid roads as it is free to enter. The mosque in particular is overrun with hawkers, beggars, pickpockets, and touts. Hire only Licensed guides who will be available at the ticket counter near the Diwan-e-Am gate.
You'll need to take your shoes off to enter Buland Darwaza. People at the gate will offer you to leave them at ate and will charge you heavily. You can take them with you in your bags.
If you're coming from Agra or Jaipur, you'll probably enter Fatehpur Sikri through Agra Gate. Vehicles must be parked in the lot near the entrance. This is where you will be approached by Fake Guides, please ignore those. It is approximately one kilometer (0.6 miles) from the sites. Visitors to the palace complex are transported by a government shuttle bus (to Diwan-e-Am and Jodha Bhai entry gates), which costs 10 rupees one way. You can also walk if it's not too hot outside.
Best season to visit Fatehpur Sikri?
The best season to visit Fatehpur Sikri is from October to March as hot summer makes it difficult to enjoy this place. There are many popular places to see in Fatehpur Sikri that you will prefer in winter when the sun is not too hot.
Best time to visit Fatehpur Sikri?
Fathepur Sikri's visit is a full-day event if you want to explore it properly. In the first half you can visit Jama Masjid, Salim Chisti Dargah and Buland Darwaja. You can take a lunch break sitting under the shadow of the palace building. During the evening time, you can explore the palaces, garden, and other buildings. At the sunset, you can go to the end of the Palace area (After the Deewane-e-Khas) and enjoy the sunset.
How to reach Fatehpur Sikri?
The nearest city to Fatehpur Sikri is Agra which is accessible from all around the world by train, road, and air. Agra cant is the nearest railway station that has proper connectivity from all sides. The AGra airport is open to flights and you can take a flight to Agra from anywhere. Fatehpur Sikri is just 37 km from Agra.
What are the days and timing Fatehpur Sikri is open?
The Fatehpur Sikri is open from sunrise to sunset on all days of the week.
Best places to see in Fatehpur Sikri
popular places to see in Fatehpur Sikri