Shri Paramhans Maharaj Dharkundi Ashram is a beautiful spiritual place near Manikpur and Satna. Dharkundi Ashram is where nature meets spirituality, has surrounded by the Ranipur forest range (Also know as Ranipur Wildlife Sanctuary).
It is the place where people from all over the world arrive for a few days to escape from their busy lives to experience spirituality and peace via meditation under nature.
Also read – 15 best places to see near Chitrakoot Dham
धारकुंडी के बारे में हिंदी में पढ़ें
Dharkundi Ashram
Dharkundi Aashram in Rasoiya, Satna (Madhya Pradesh) has situated between Satpura and Vindhyachal mountain range. In association with Shri Parmanand Ji Maharaj, Shri Sachidanand Ji Maharaj did meditation for 11 years in Sati Anusuya Ashram in Chitrakoot and established this Dharkundi Ashram in 1956. With his spiritual power, he gave this natural place a meaningful form through this beautiful Ashram
Everyone coming to Dharkundi Ashram is provided with good quality food without any cost. This food is prepared from the grain and vegetables produced in the field owned by Shri Sachidanand Ji Maharaj.
Also read, 15 best Tourist destination near Chitrakoot
धारकुंडी के प्राकृतिक और आध्यात्मिक सौंदर्य की महिमा
Dharkundi Ashram history

According to one purohit in Ashram, Shri Sachidanand Ji Maharaj came to this place on 22 November 1956. Before that, there was nothing in here except for the Pouring forest. There was a Den in the joint of 2 mountains where Swami Ji lived with a lion.
Arth Marshan Kund in Dharkundi Ashram
Arth Marshan Kund in Dharkundi is very famous for its mythological background and everyone must take a bath in this Kund which is said to be very pure and people say that it will wash all your sins if you take a bath at this place.
Historical background of Arth Marshan Kund in Dharkundi Ashram
According to the Hindu epic Mahabharata, Yudhishthira and a yaksha samvaad (riddle contest ) took place in Arth Marshan Kund.
One more very interesting fact associated with Arth Marshan Kund which you can read in Mahabharata and Bhagavad Gita. According to that, when Pandavas killed Kauravas during Mahabharata, they were cursed for killing people in their own Gotra. To get out of that curse, someone suggested to Yudhishthira that he can clear the curse by taking bath in ArthMarshan Kund on ravi saptmi (7th day which is Sunday in 15 days moon cycle).
Images of Dharkundi Ashram – Dharkundi Maharaj ki photo
How to reach Dharkundi Ashram
Nearest railway station and airport
Manikpur is the nearest railway station to Dharkundi Ashram, it is 46 km from Dharkundi. You can rent a cab from Manipur railway station for Dharkundi. There is no bus service available for Dharkundi. You need to hire a private cab/car/auto and visit the beautiful dharkundi ashram
Distance of Dharkundi from Allahabad(Prayagraj) is 142 km, from Katni it is 176 km. The distance from Satna is 70 km and from Rewa is 62km and from maihar is 108 km
Khajuraho and Prayagraj Airport are the nearest airports from Dharkundi, Khajuraho airport distance is 176 km and the distance from Prayagraj Airport is 124 km. Lucknow airport distance from Dharkundi is 254 km (travel time 6 hours by car) and Bhopal airport is 504 km away from this spiritual place.
My Journey experience to Dharkundi Ashram
I had heard of this beautiful place from my friends and relatives multiple times, so I thought of visiting this spiritual place. We planned to start early in the morning so we can get back home by evening. I also packed some food which my mom made as I thought to have a picnic in Forest( I love eating in outdoor places like this).
We stared From Banda (My home town) at 8 am in the morning and reached Chitrakoot and then we took the Satna highway for 35 km and took a left turn just before Karuna Dham ( 4 Km from before Majhgawa) and took one road which connects Dharkundi from the highway and drove 30 km and reached Dharkundi Police station, had tea there. Dharkundi Ashram was only 5 Km from that tea shop. We went to the Ashram, spent some time there, took some pics then we went to explore the wildlife around the Ashram and had our lunch there
Distance from banda is 118 km if you go via Manikpur and 143 km if you take Chitrakoot Satna road. We preferred to take the Satna road after Chitrakoot as this road was good. If you go via Manikpur, you have to go through a road full of potholes and it will be an uncomfortable and bumpy drive and you or your car won't like it. The distance from Chitrakoot to Dharkundi is 48 via Manikpur.
धारकुंडी के बारे में हिंदी में पढ़ें
wild life experience near Dharkundi
After spending time in Dharkundi Ashram, we went to explore the wildlife around the Sri Paramhans Dharkundi Ashram. The whole area is covered with Forest which comes under Ranipur wildlife sanctuary in Manikpur. We grabbed our camera and food and started walking. We found one water source flowing from within Forest, we sat there for a while, clicked some photos, and sat down to have lunch in the wild.
We all had our mom's packed food for us as we knew about the experience people shared about Dharkundi having a great atmosphere for an outdoor picnic. Let me tell you, we had never enjoyed having lunch more then we did here, it felt like a blessing to all of us. There was something about the ambiance of this place which made food taste so delicious. We took some great photos and videos to capture this beautiful area.
We felt like staying here forever as we never felt this peace before when we were busy in our daily life and working for multi-national companies. We took a long trek alongside the water canal and witnessed the monkeys and birds doing their usual stuff, captured a few of their moments in Camera, and then it was evening which made us return to our car and drive home. While returning for the home we saw one water Dam (Bandwa dam near Manikpur) in which we chilled for a while soaking our tired legs and the took bath which took away all our tiredness from the trek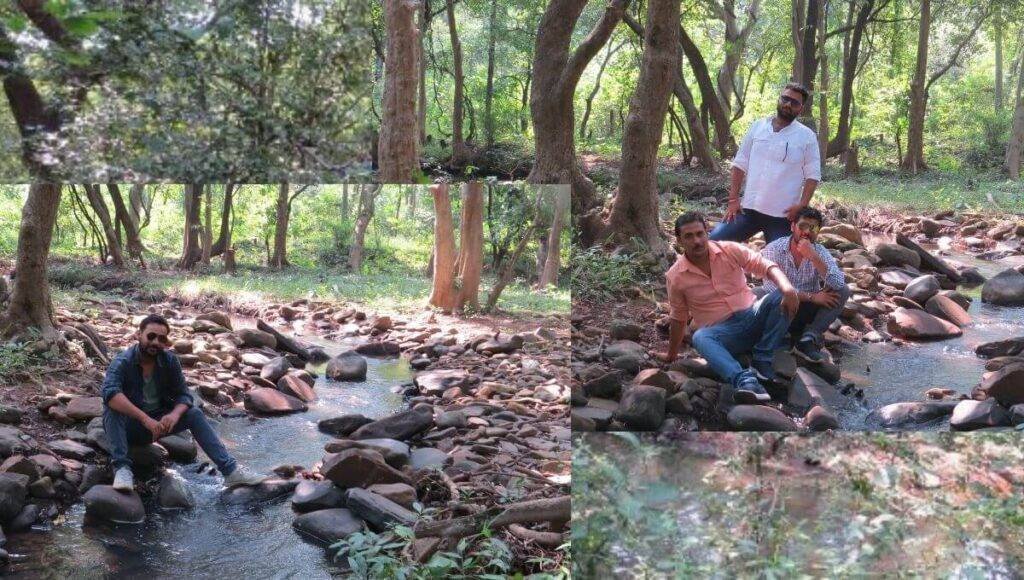 धारकुंडी के प्राकृतिक और आध्यात्मिक सौंदर्य की महिमा
Conclusion
To Conclude our experience in Dharkundi Ashram, Manikpur (Near Satna), it was a very nice experience which we will cherish throughout life and will surely try to visit here more. Spirituality in the mix of nature is the thing I liked most about this place. Shri Sachidanand Ji Maharaj Ashram, Arth Marshan Kund, and everything about this complete area are worth your time. If you love nature, spirituality and want to spend some time in peace, you must visit this place
This place is well connected from Satna highway as Thanks to those who had build such a nice long road which made our road trip to Dharkundi blissful. This place can be developed further to attract more and more visitors which will be good for everyone. It will help to preserve this forest area from deforestation which is happening in the area, we saw a large number of trees which were cut either by locals who have been doing this to fill their empty stomach and also by some greedy businessman who did it for making more money.
Some ideas and suggestions to extend the popularity of Dharkundi Area
This Area can be promoted as a camping destination for locals and outsiders where people can come with family and friends and spend the night in the wild. It will help current and upcoming generations to stay connected to nature which I feel is getting away in this age of technology. Now people from all age groups are busy with gadgets and don't even know the freedom and blessing which can only be achieved under nature.
We do not have any proper place for camping in Bundelkhand which is safe and easily accessible. If we get some support from the local government, leaders, and local population, this place can be branded as the best Camping destination in Bundelkhand. This will also generate some jobs for locals in the area.
If you liked this article, please share it with others, provide feedback. You can also share your story of Dharkundi in the comments, it will help others to get an insight into your experience.
धारकुंडी के बारे में हिंदी में पढ़ें
Rewa to dharkundi distance
1 hr 33 min (61.2 km) via Phool Mati Mata Rd
Dharkundi Maharaj age
Dharkundi Maharaj is 91 year old
paramhans ashram dharkundi
paramhans ashram dharkundi is in the Dahrkundi itself, near the waterfall of dharkundi
Places near Dharkundi worth visiting